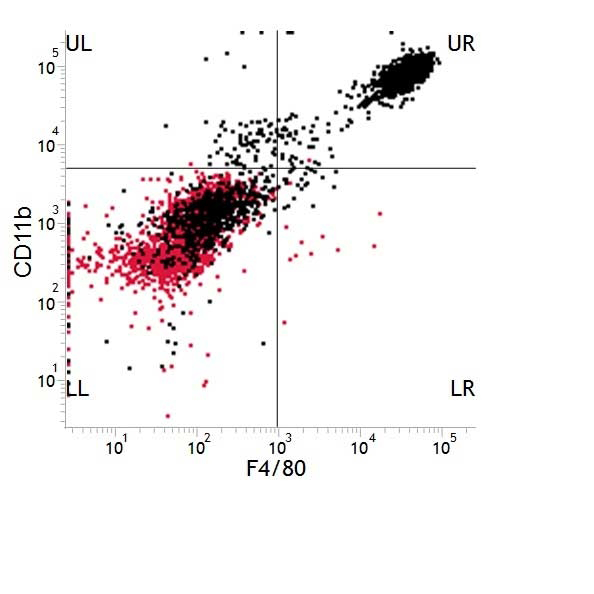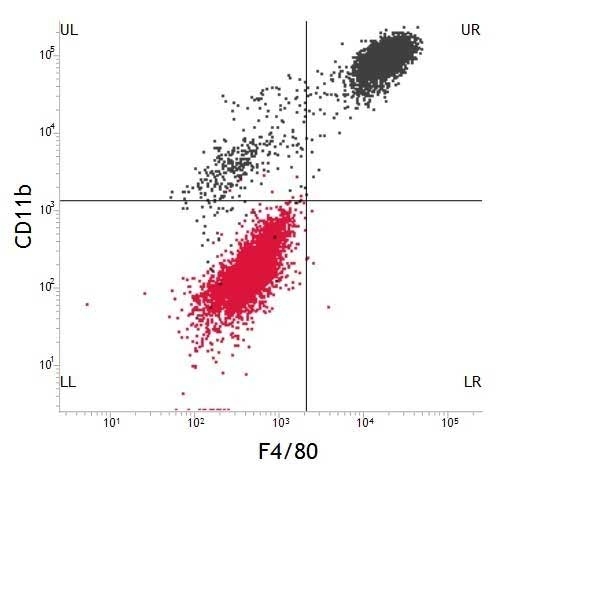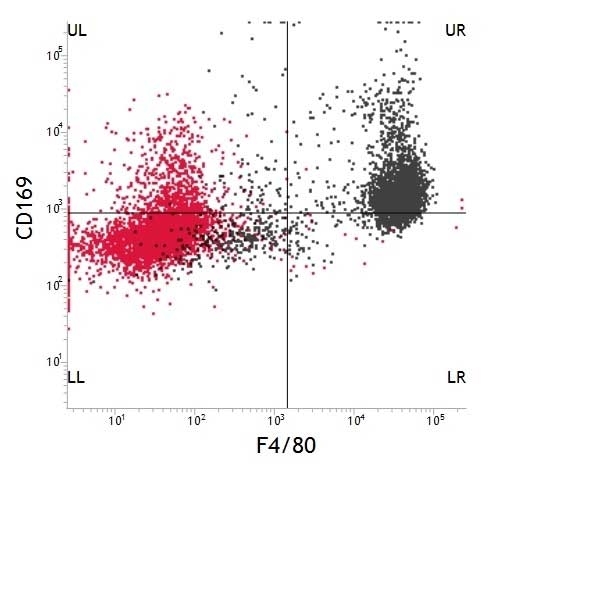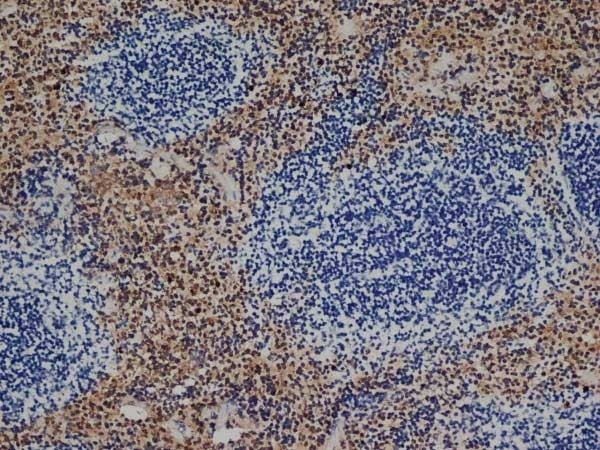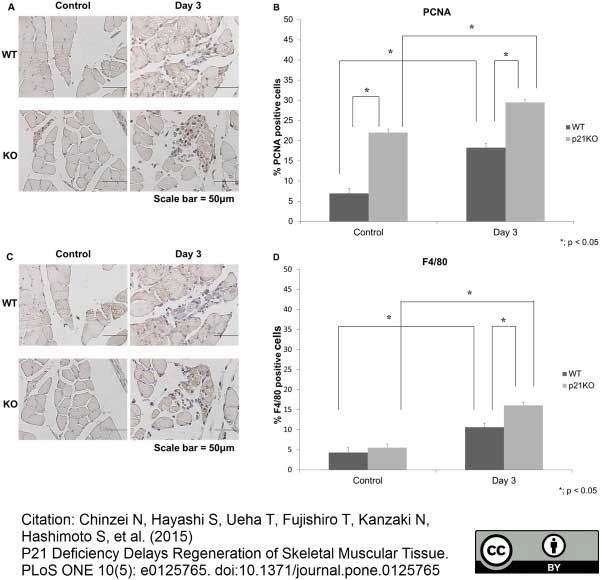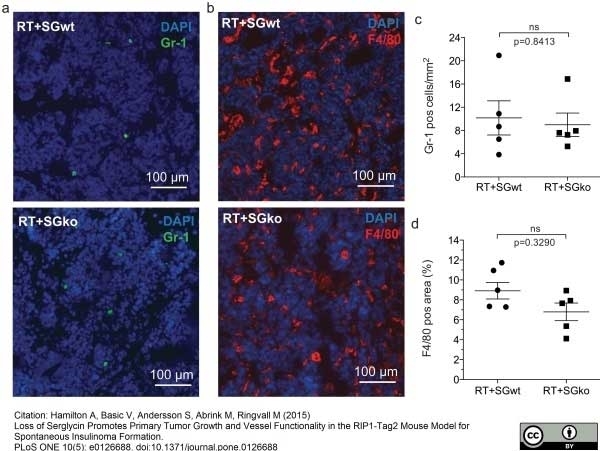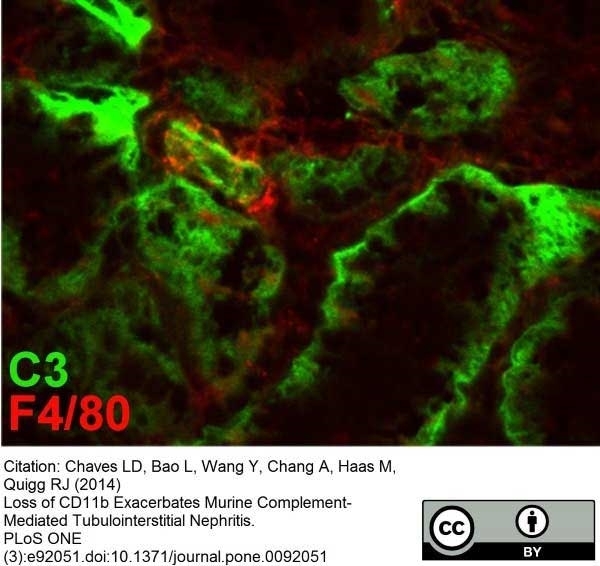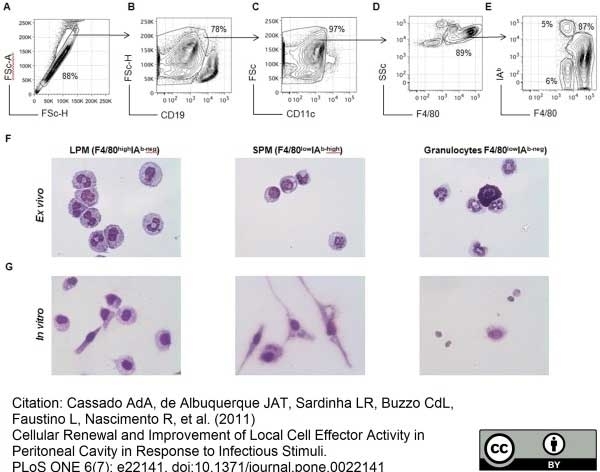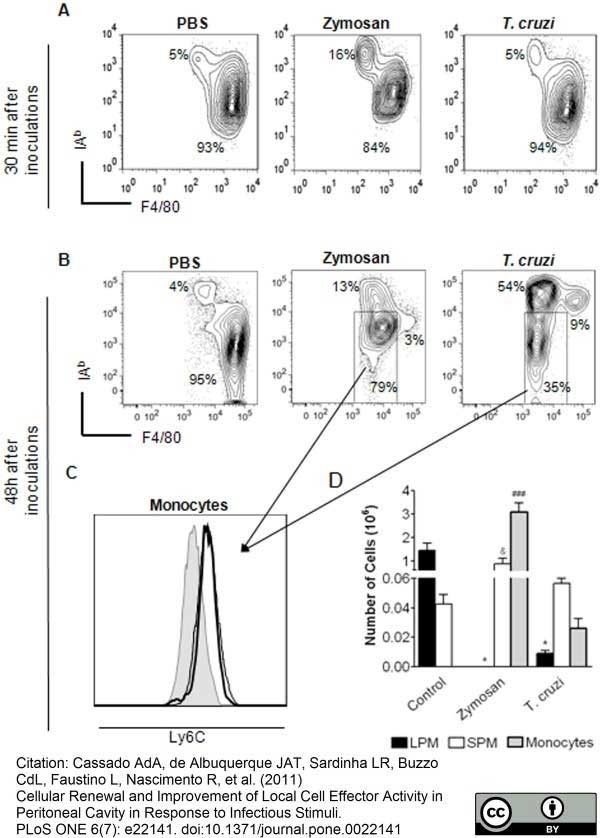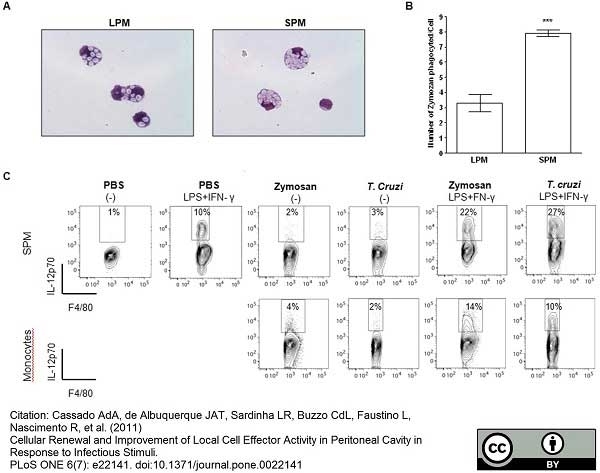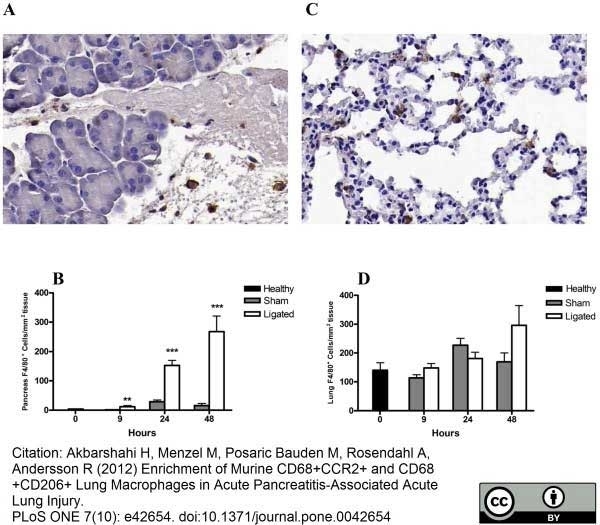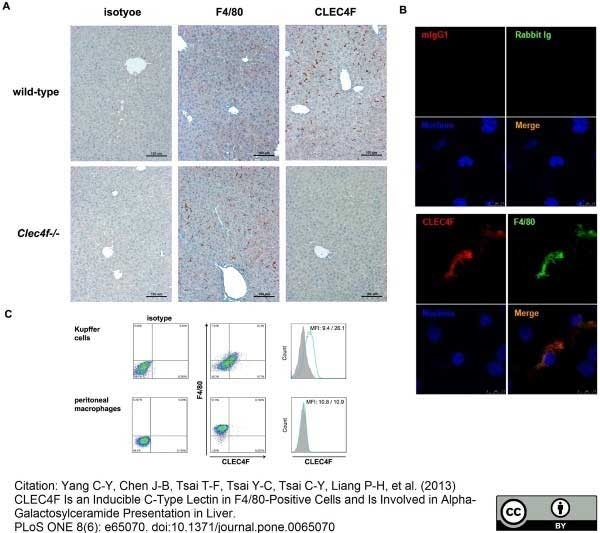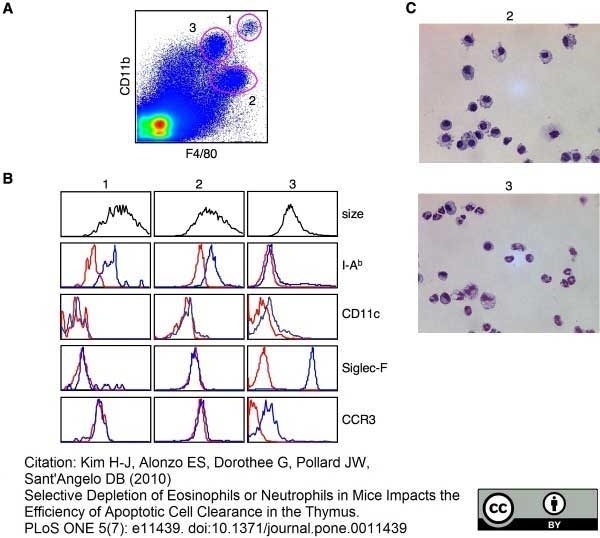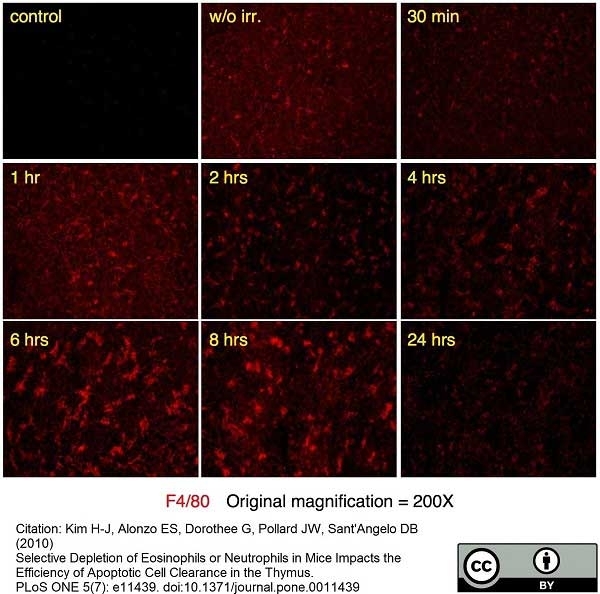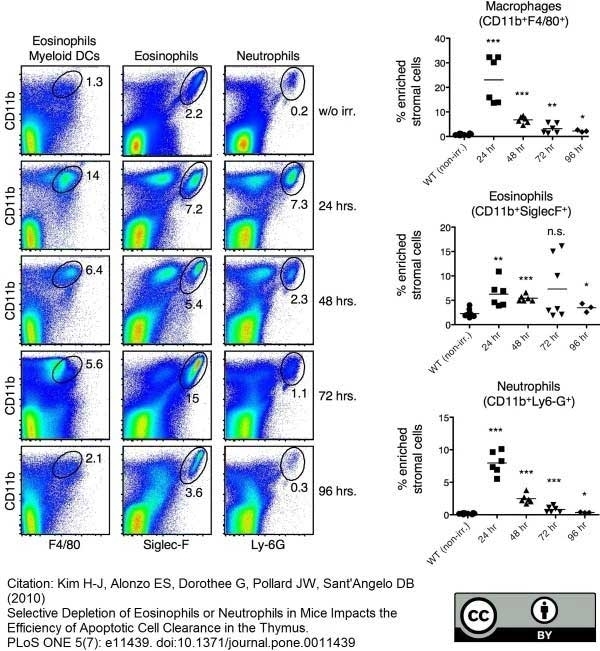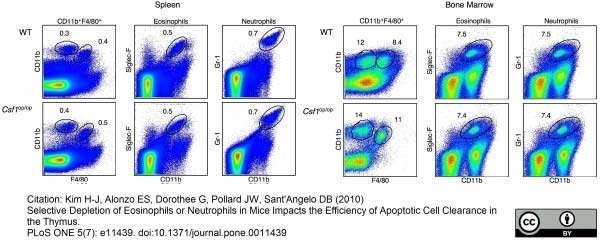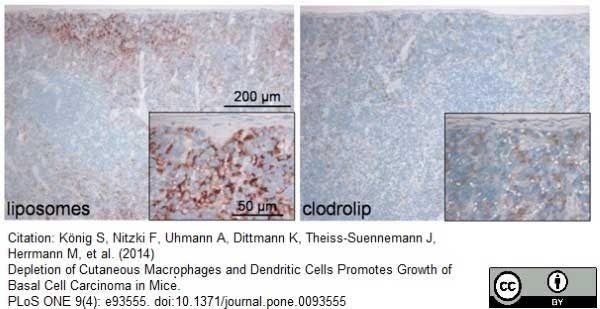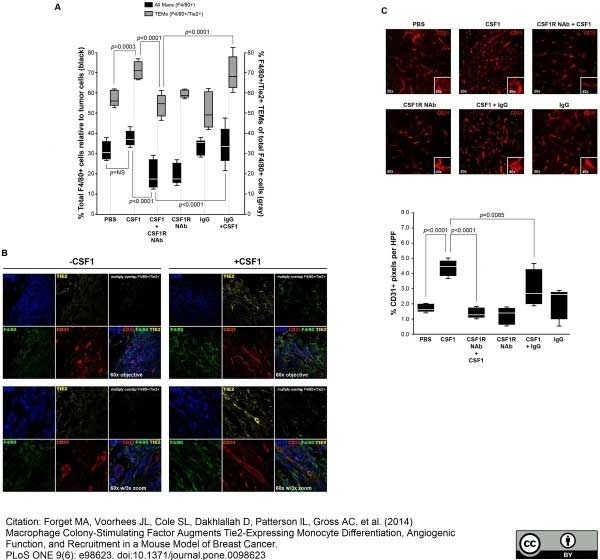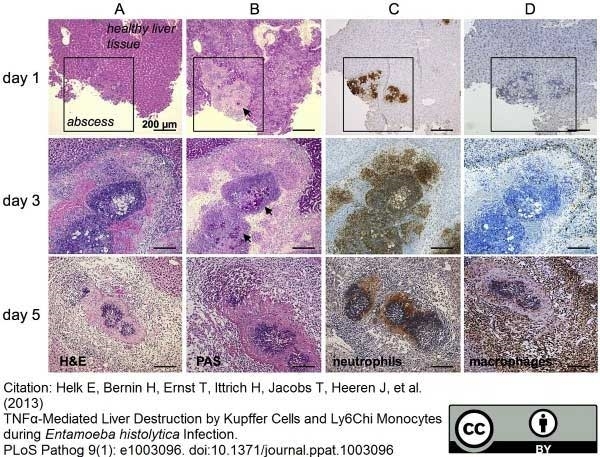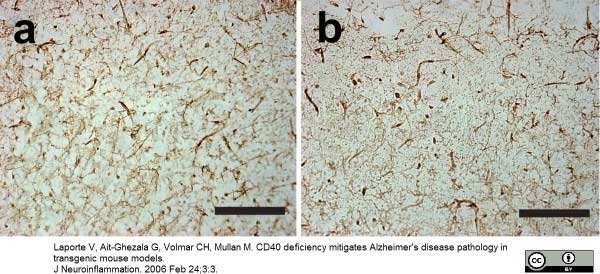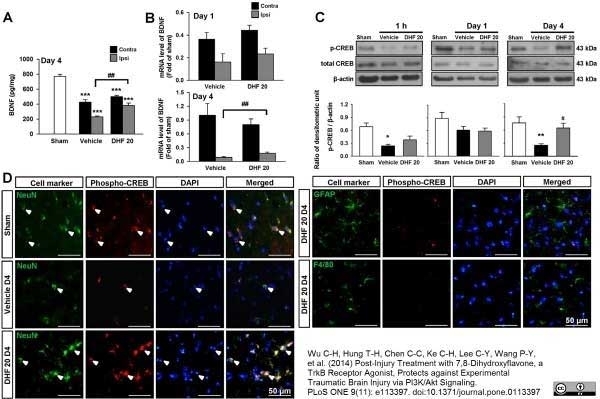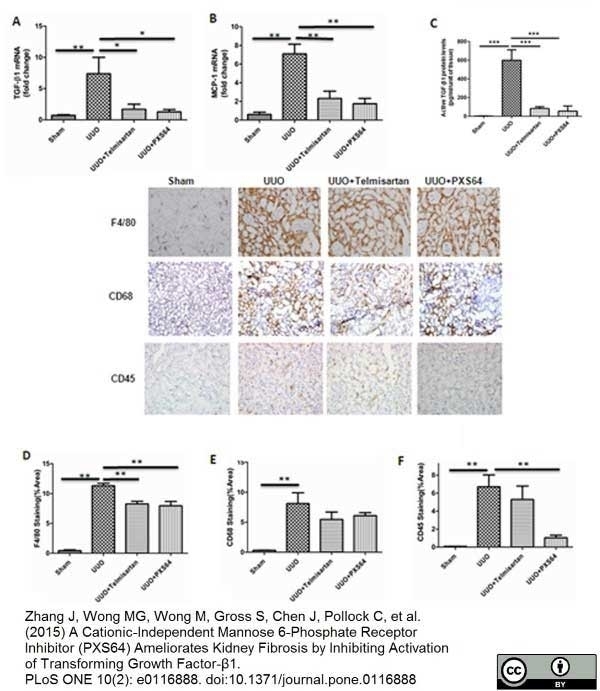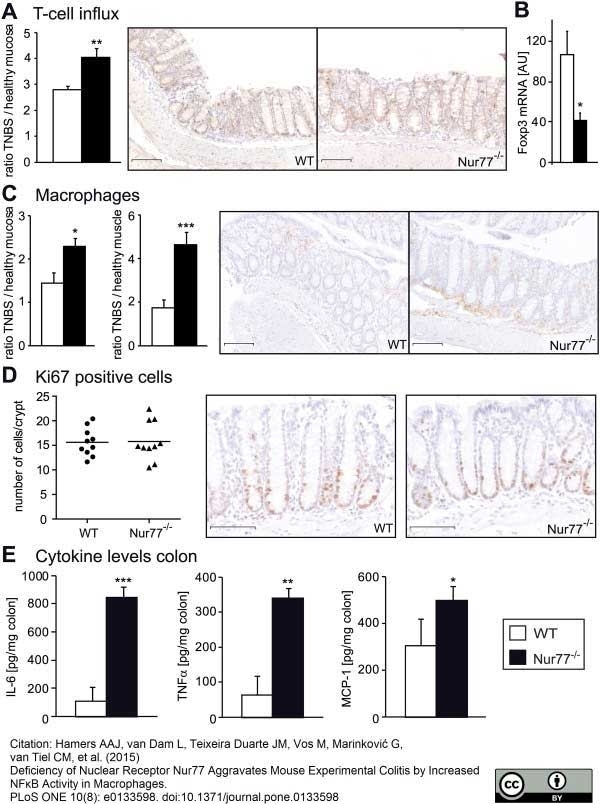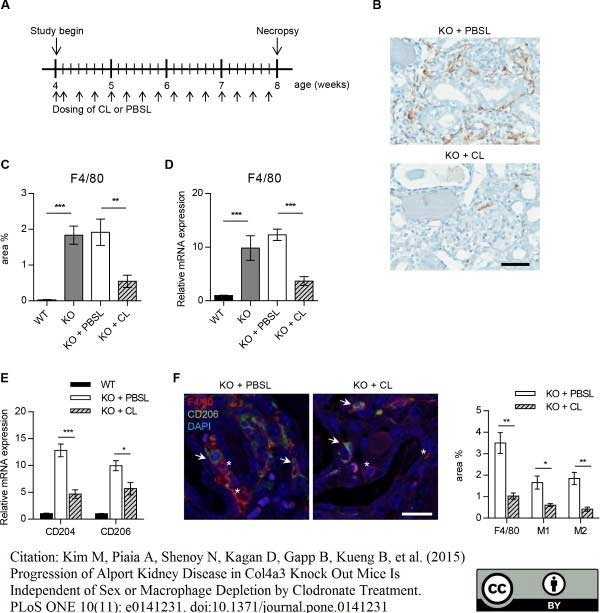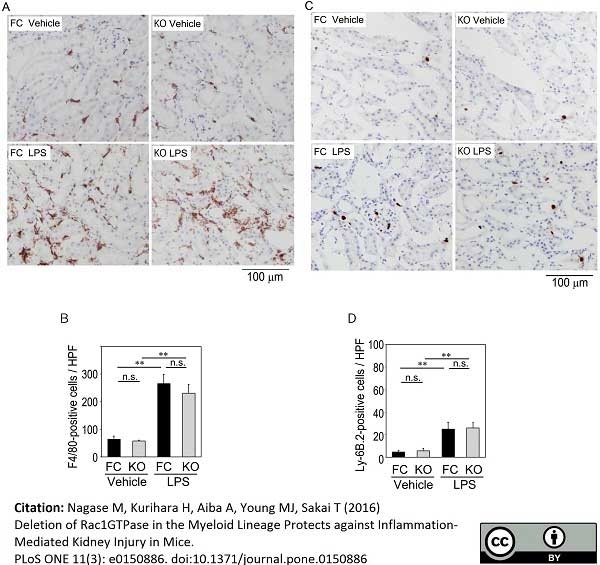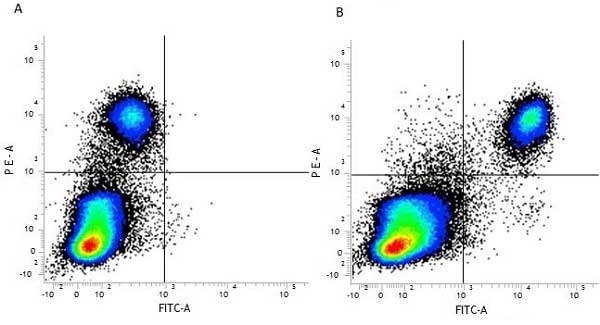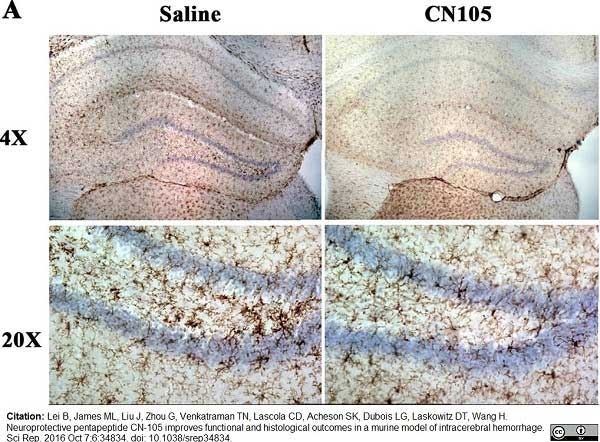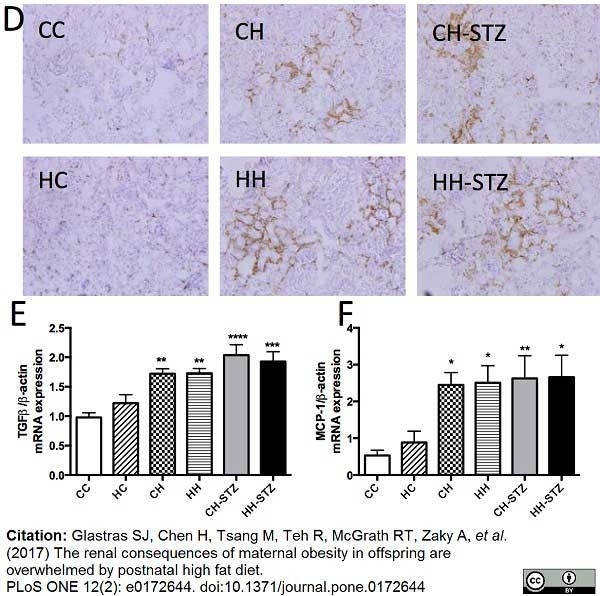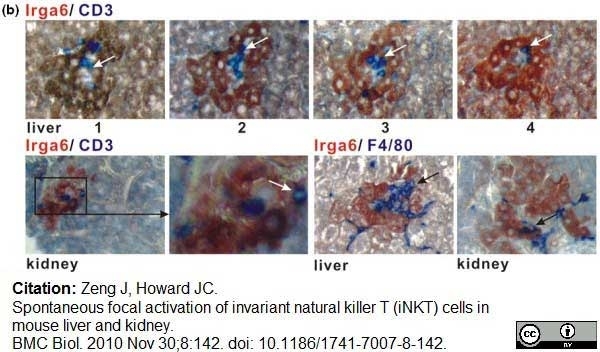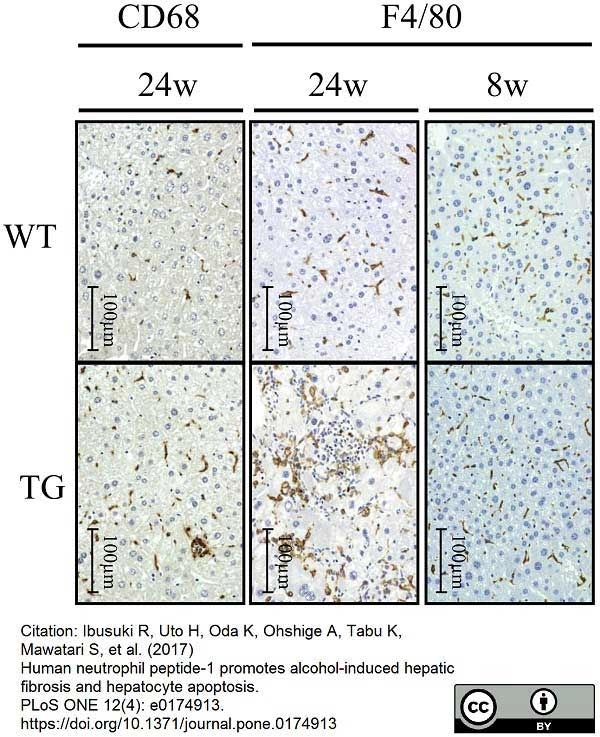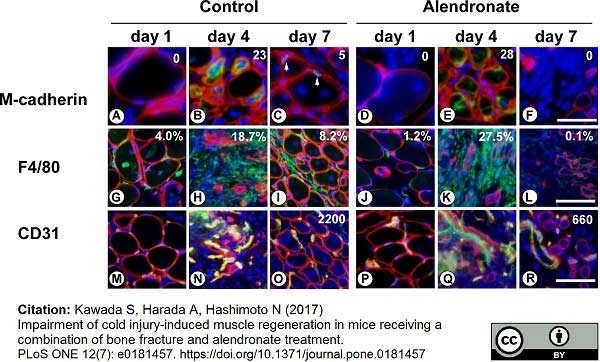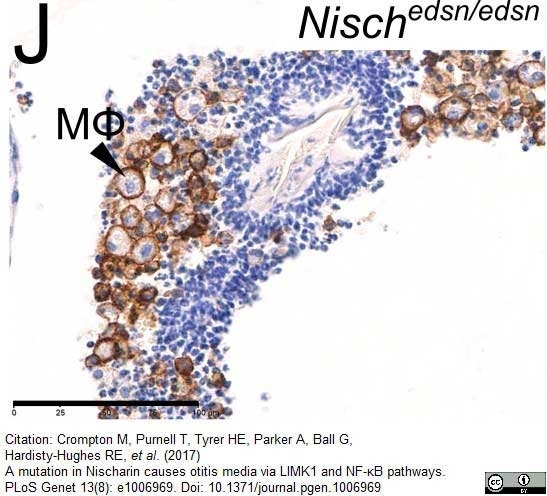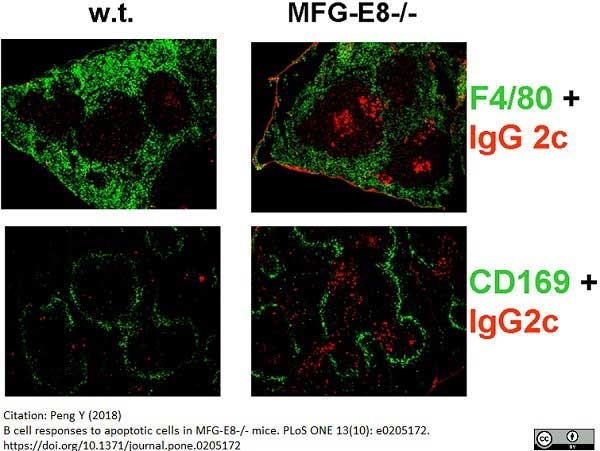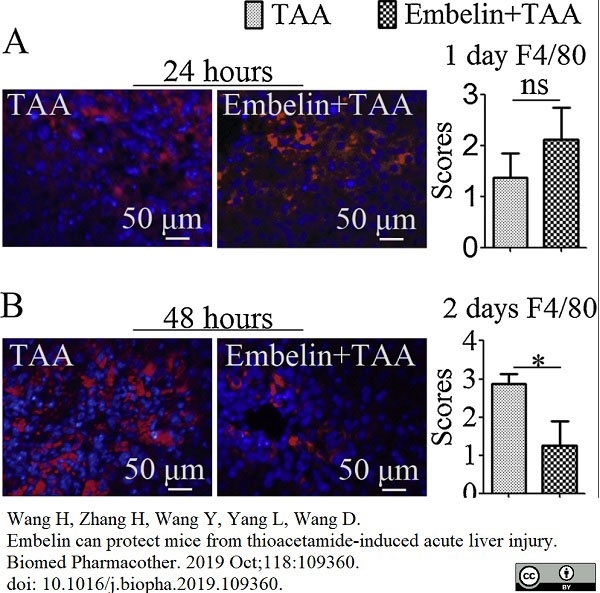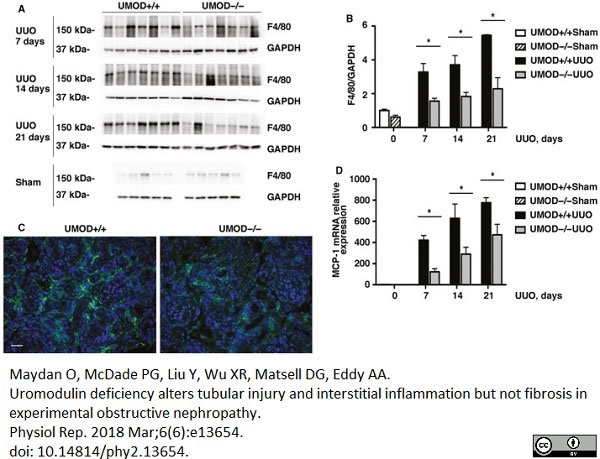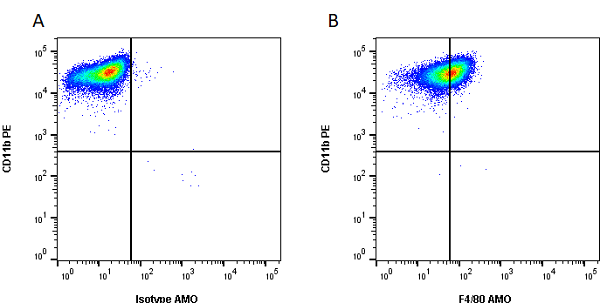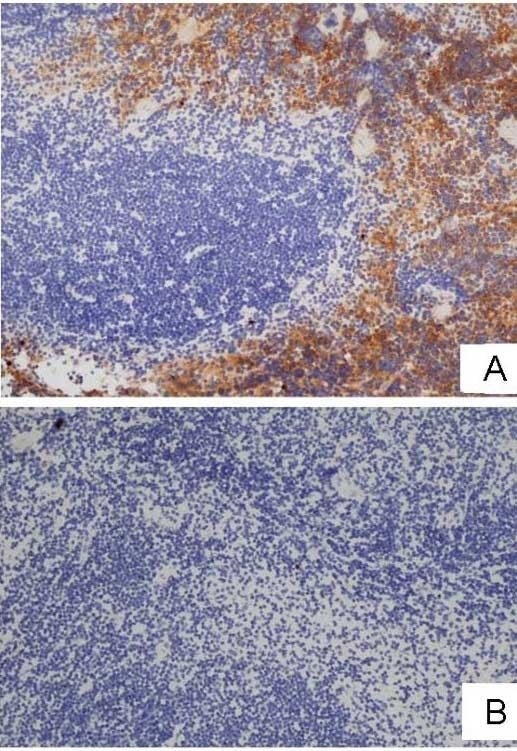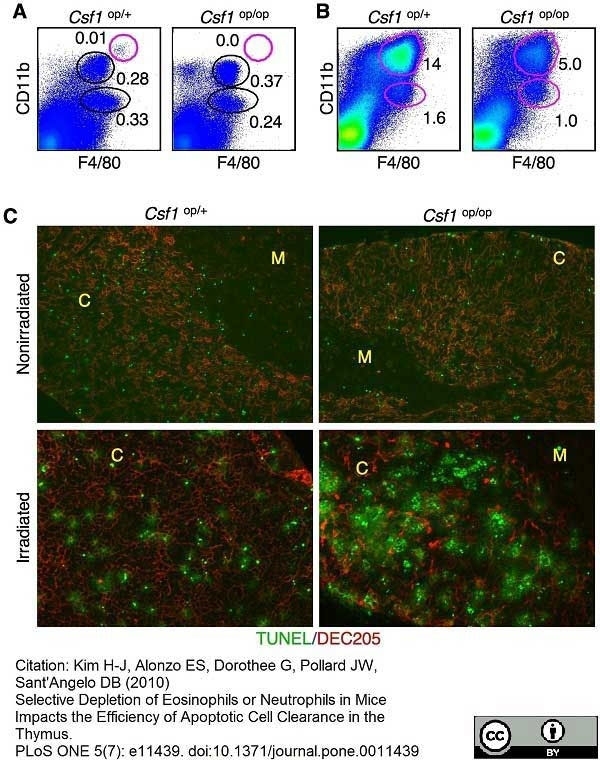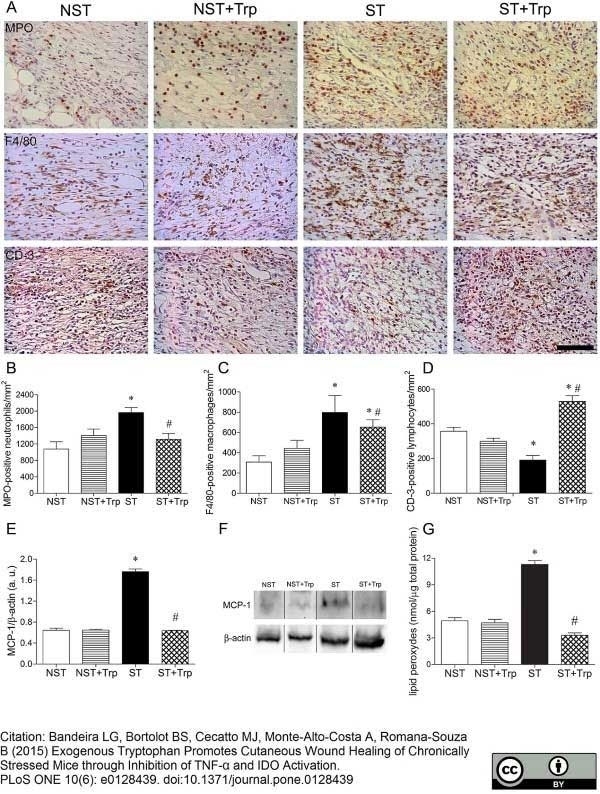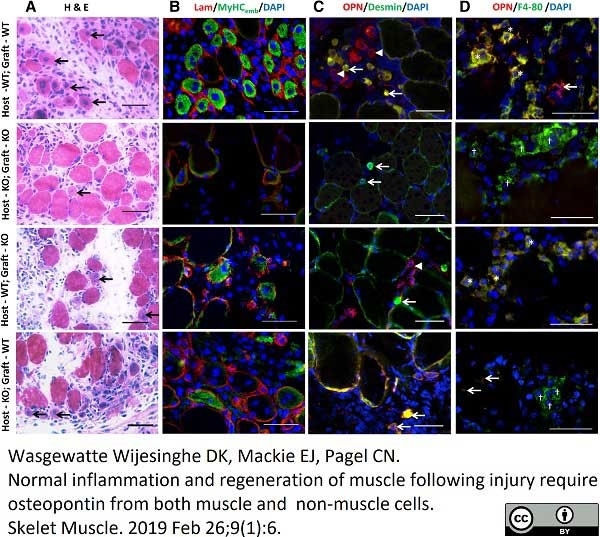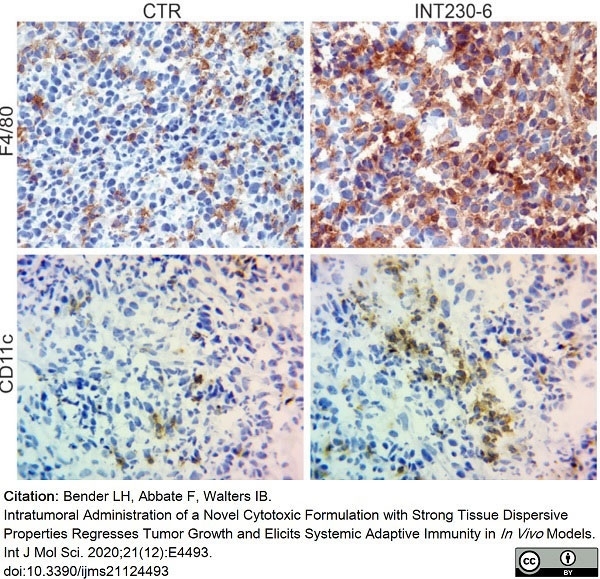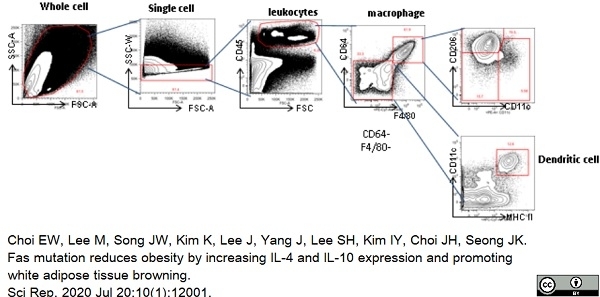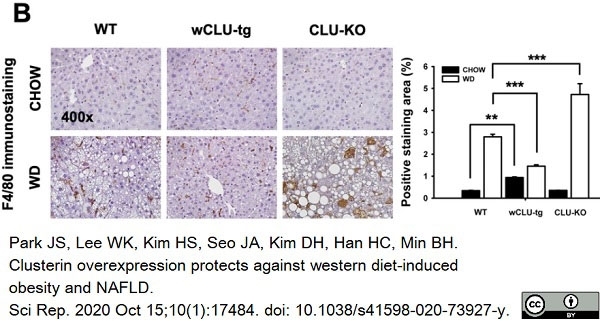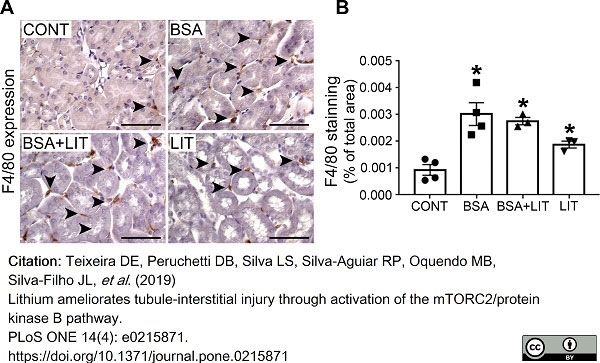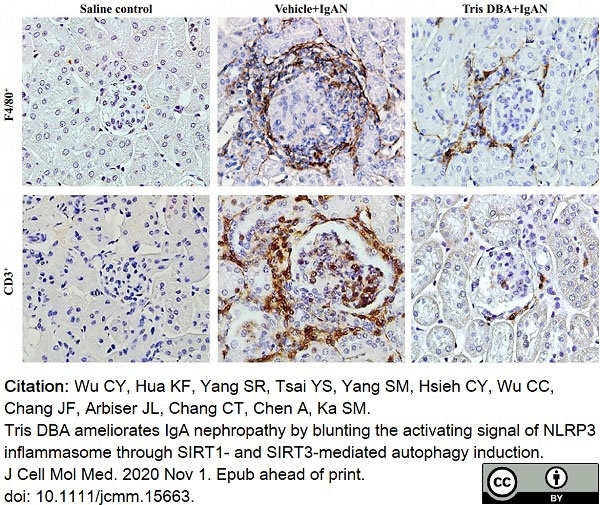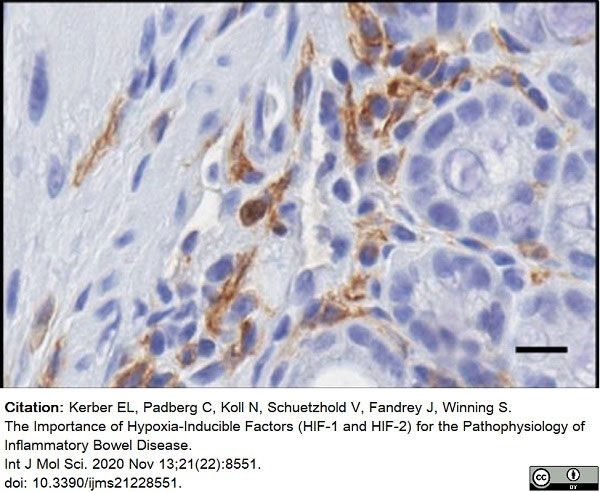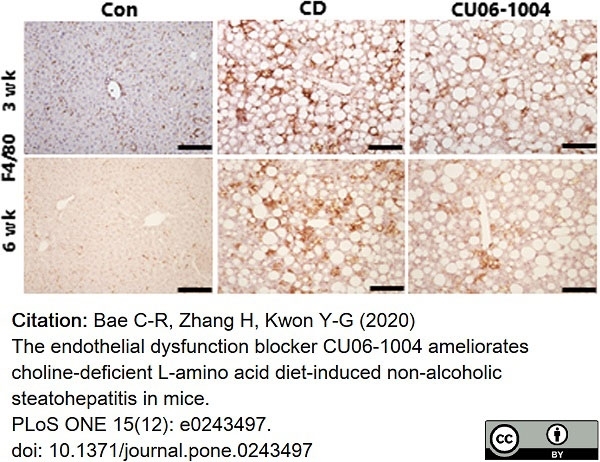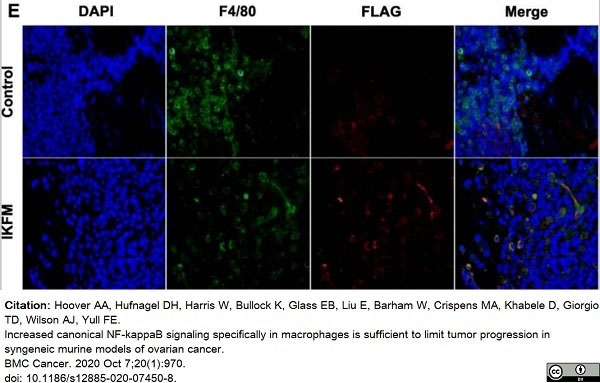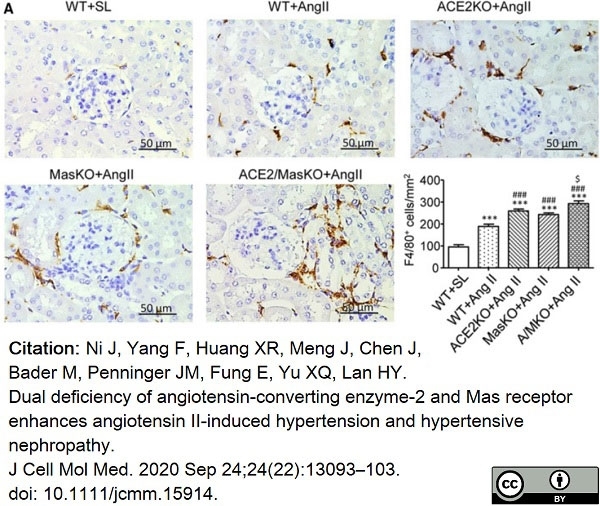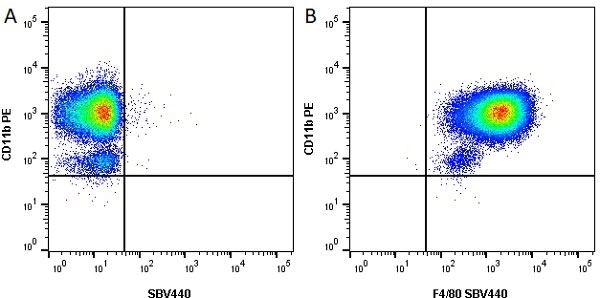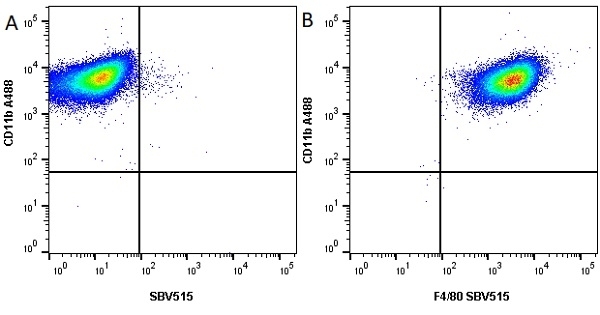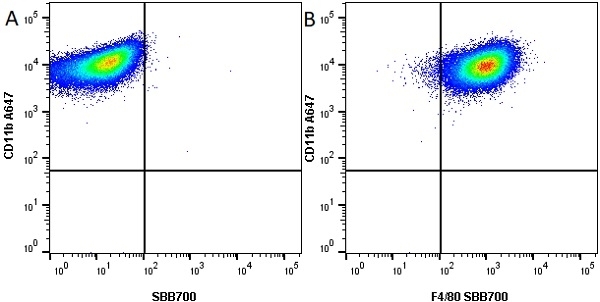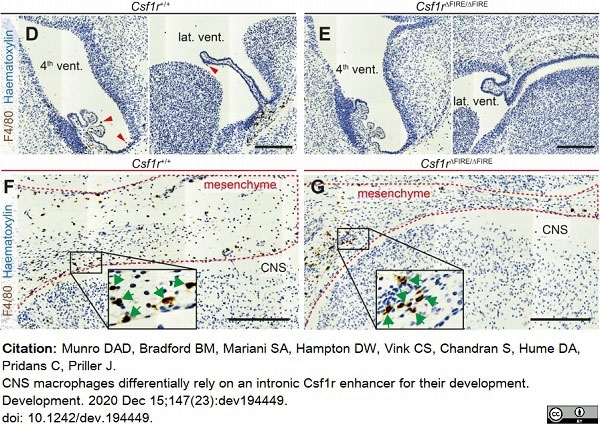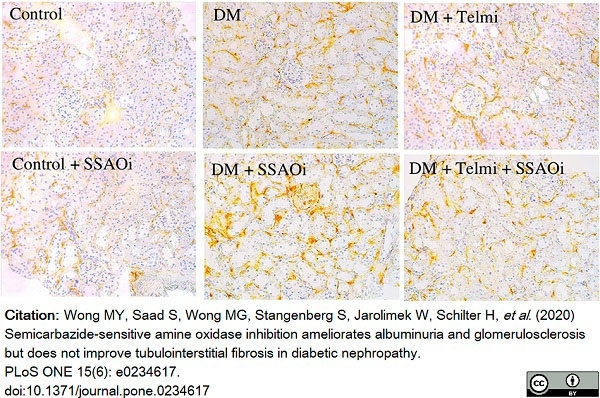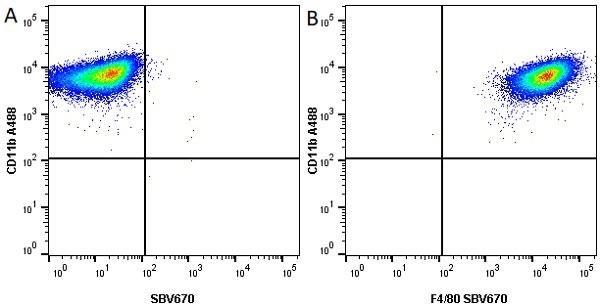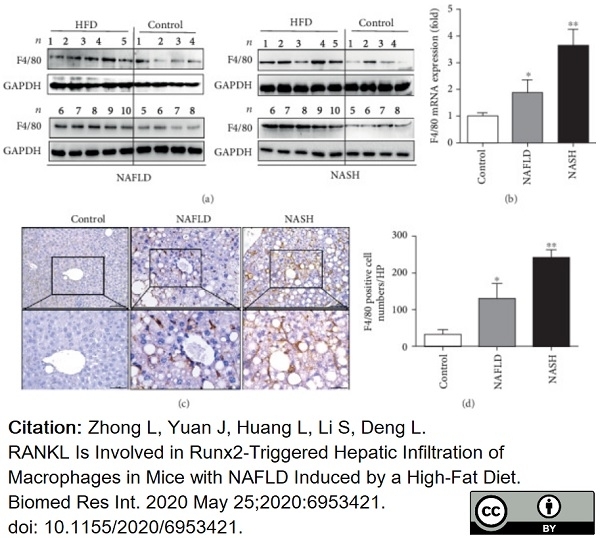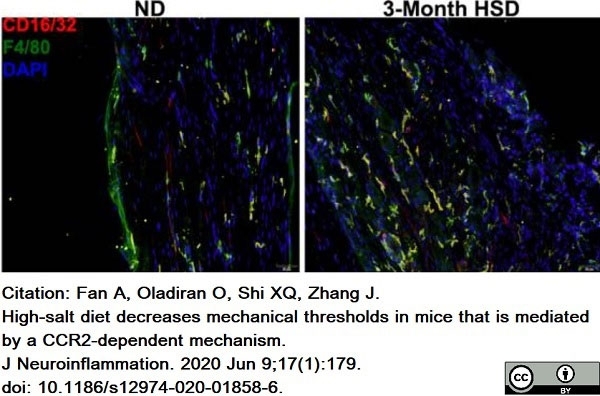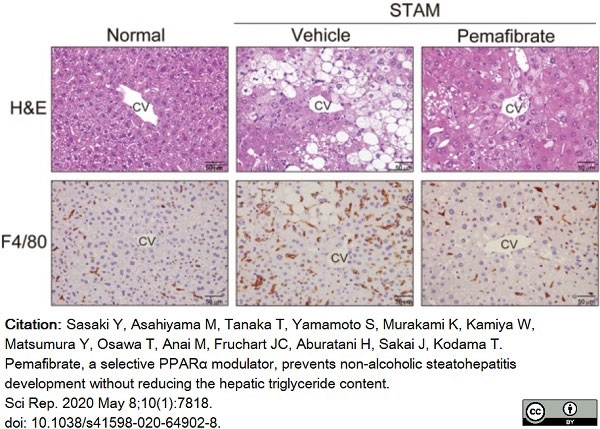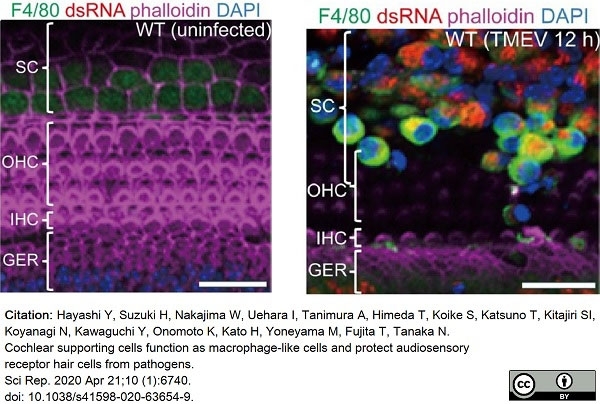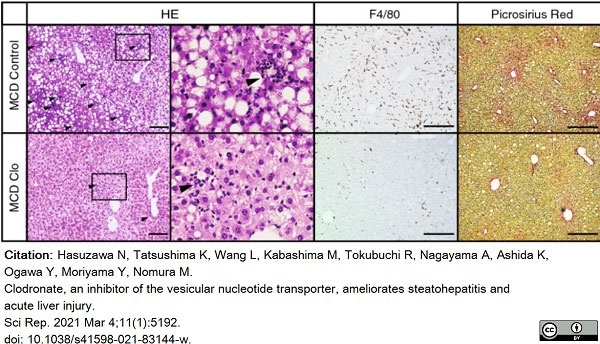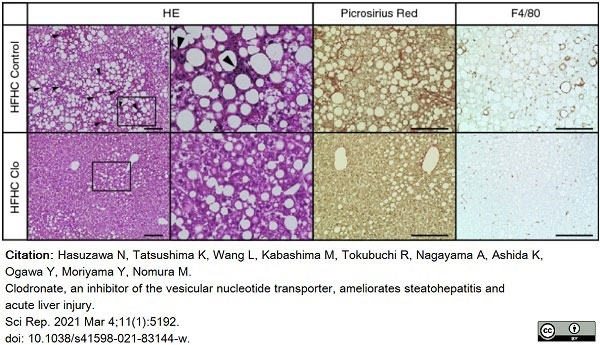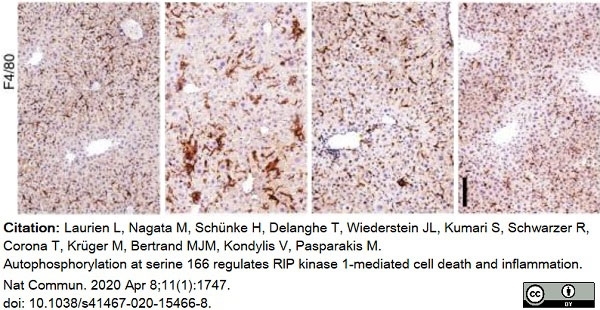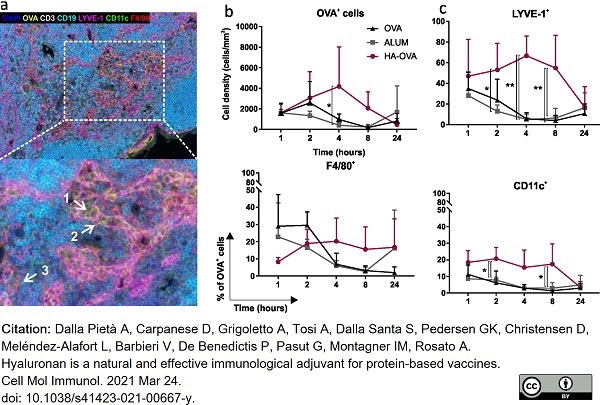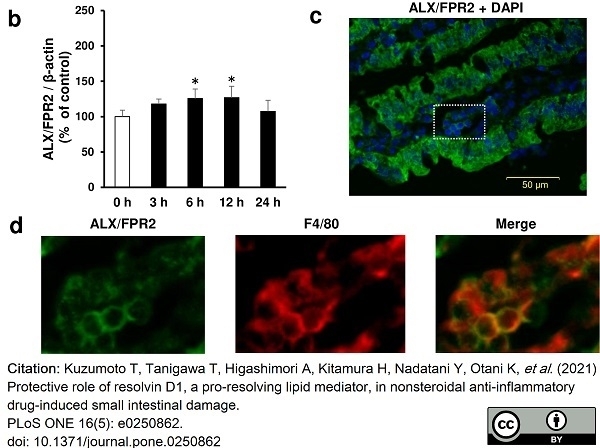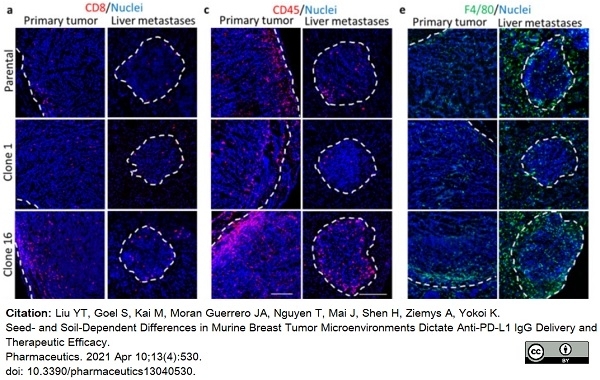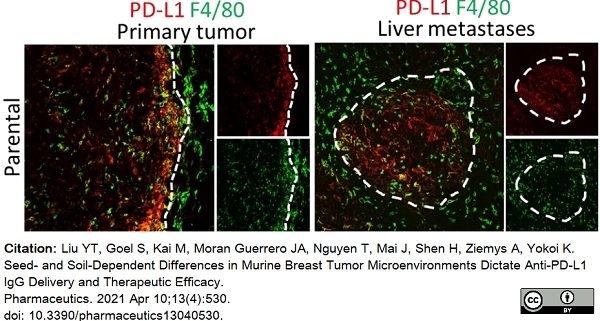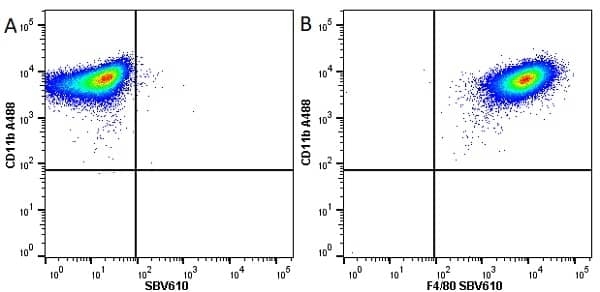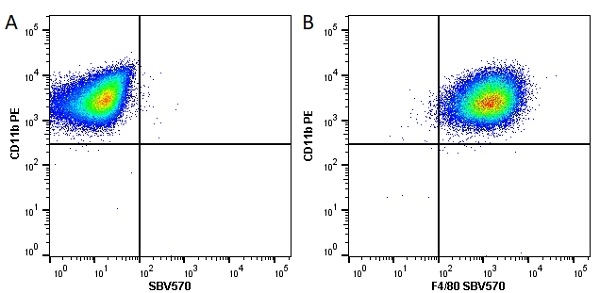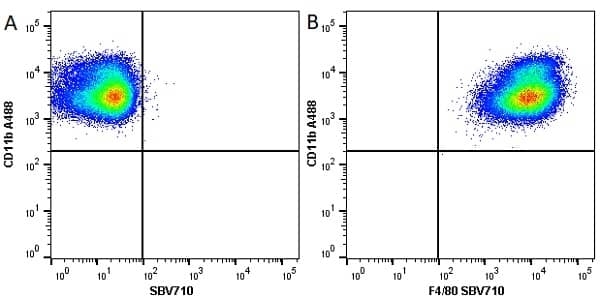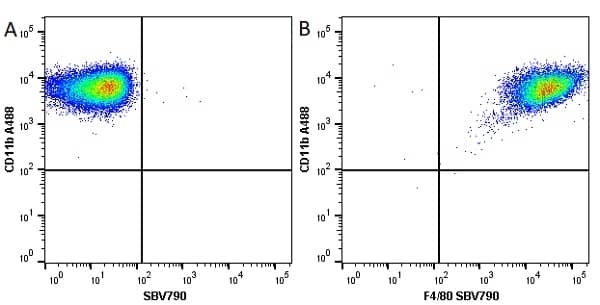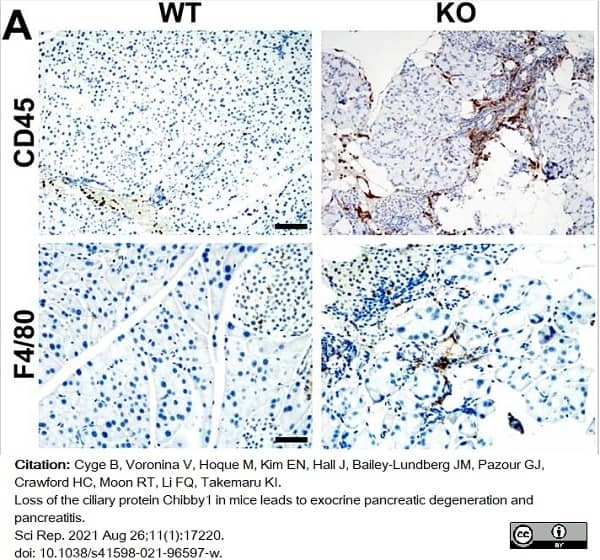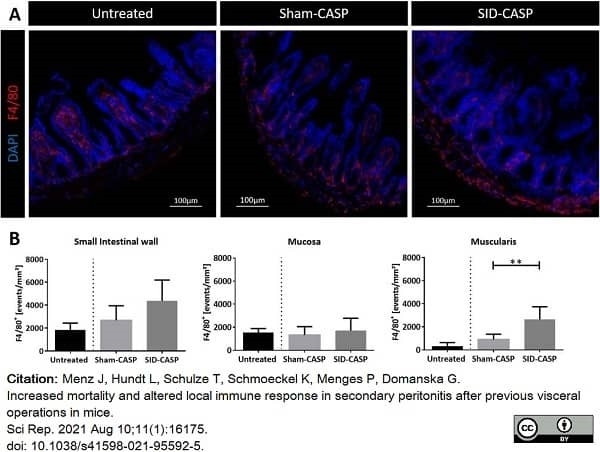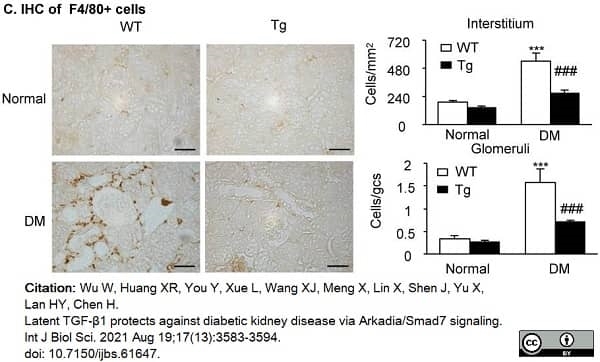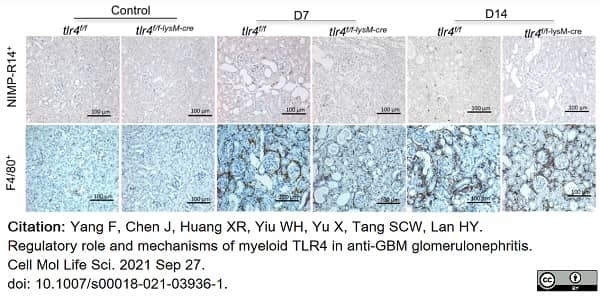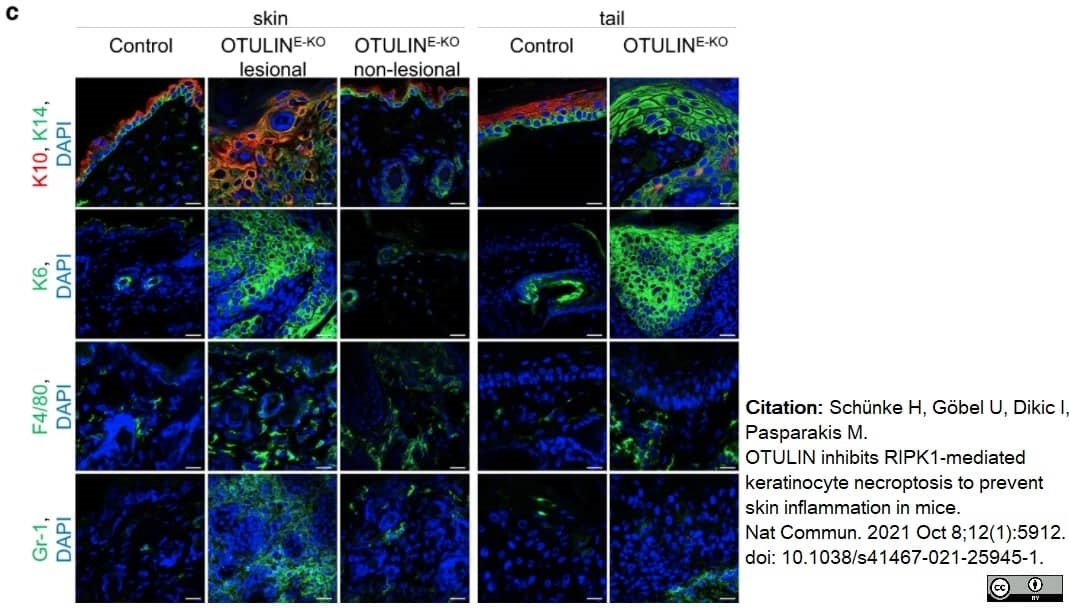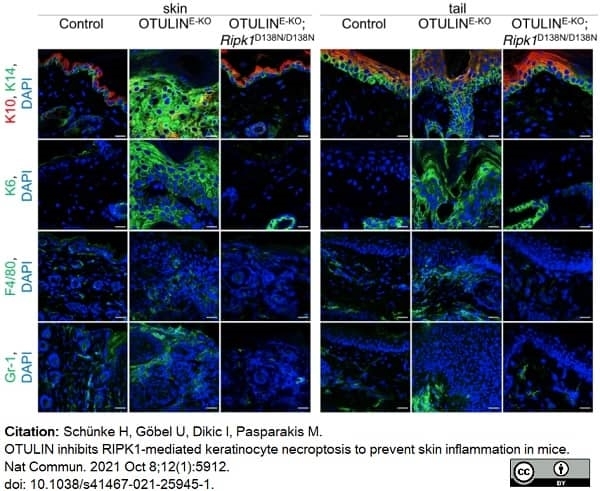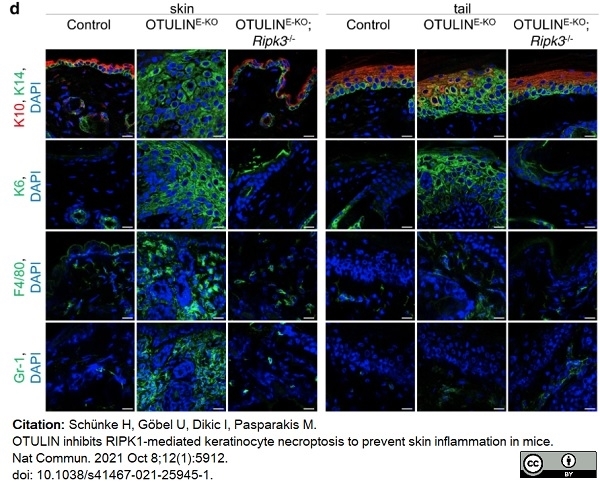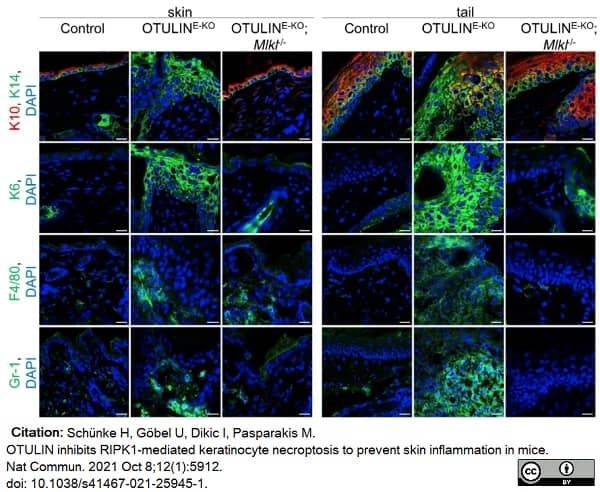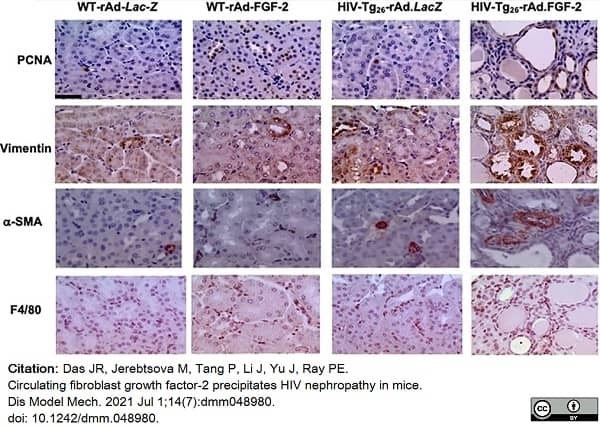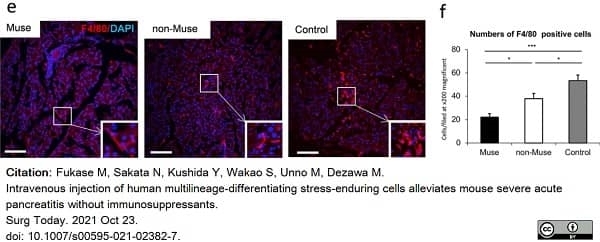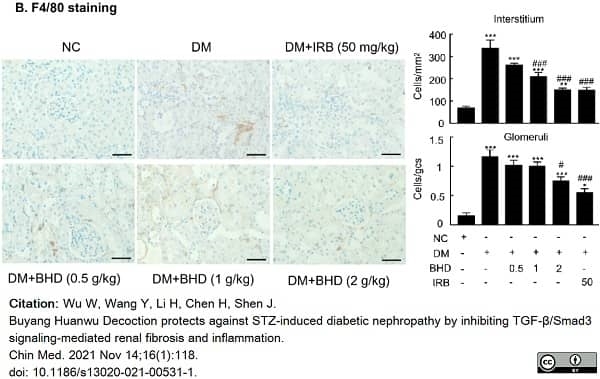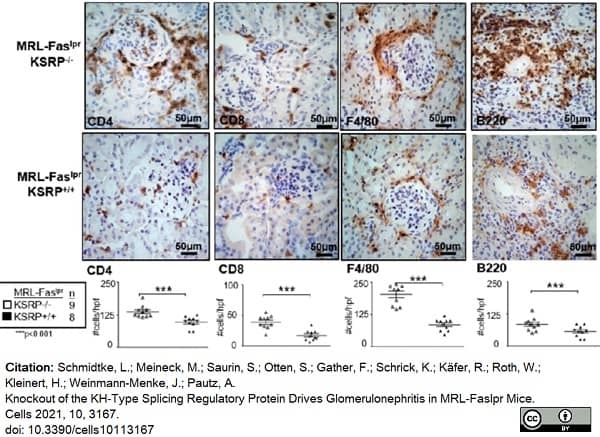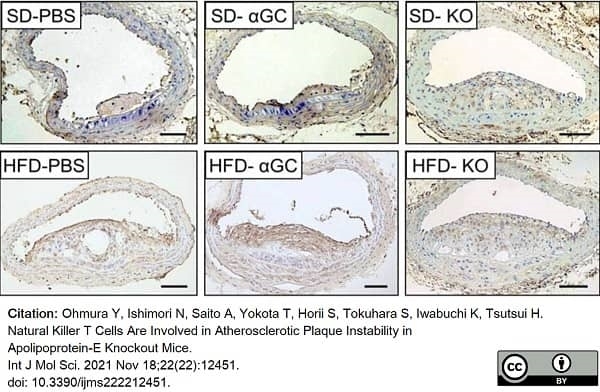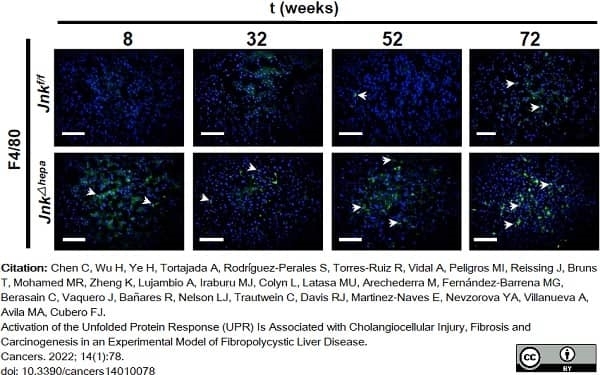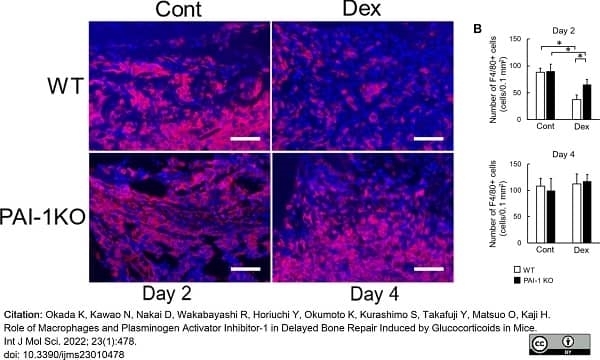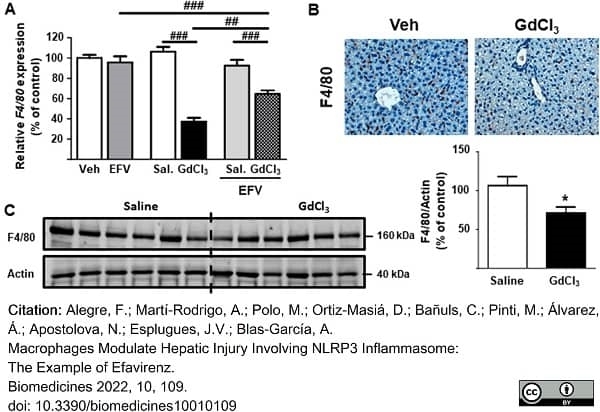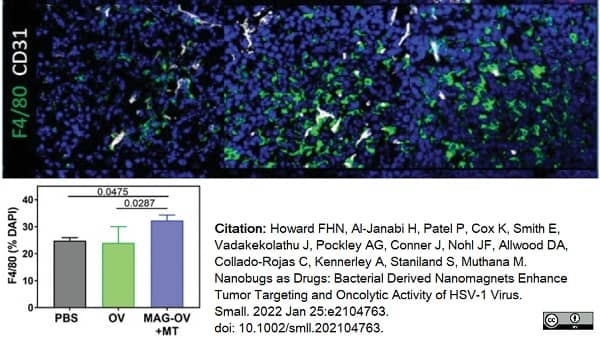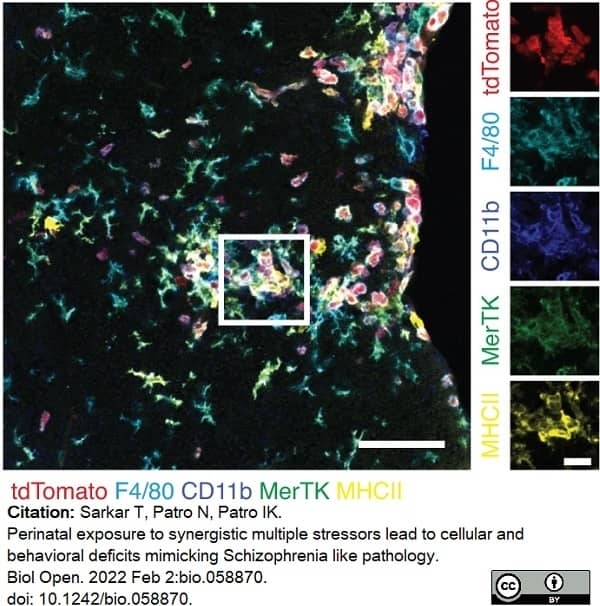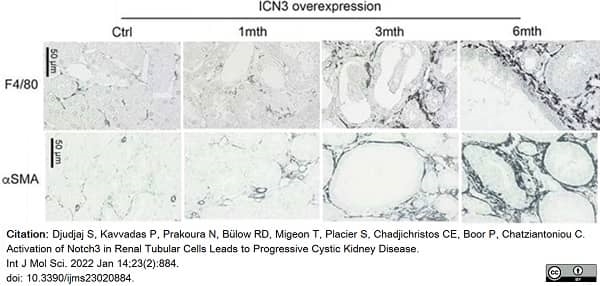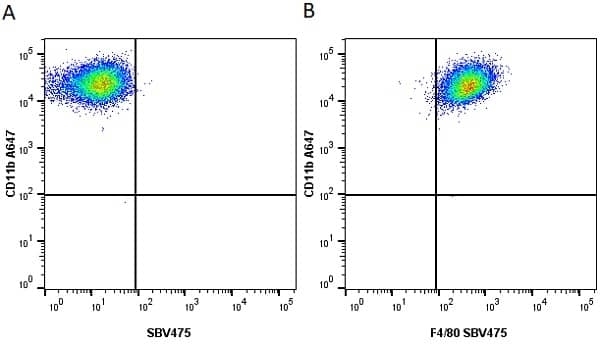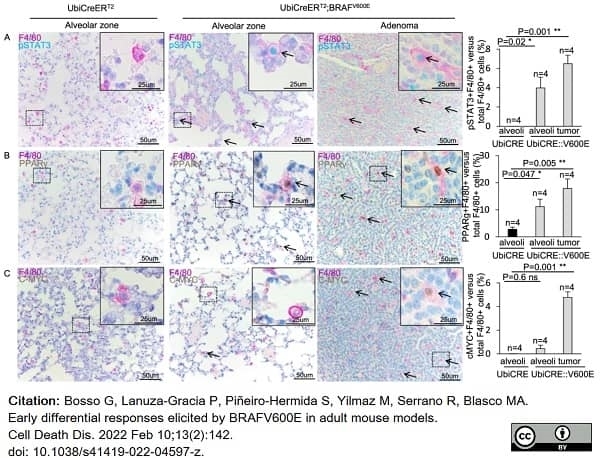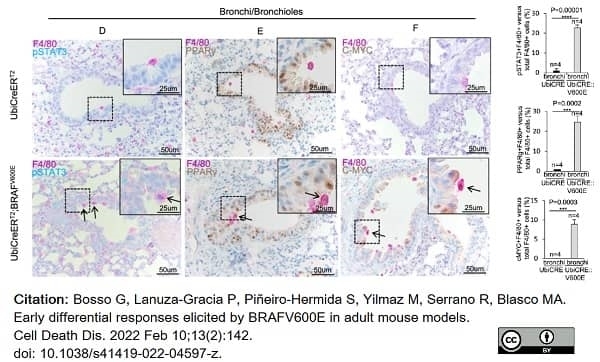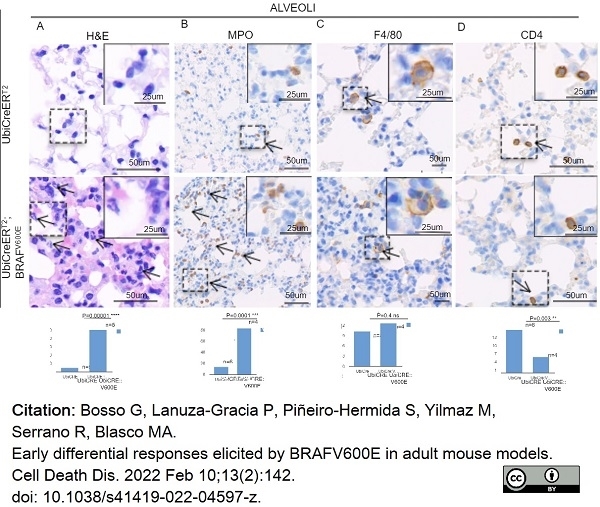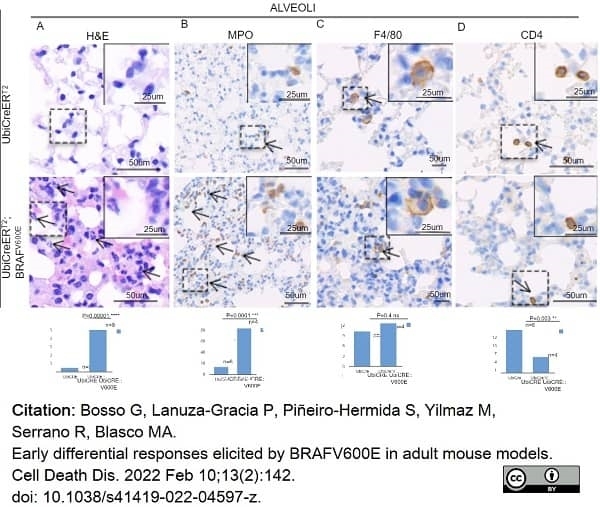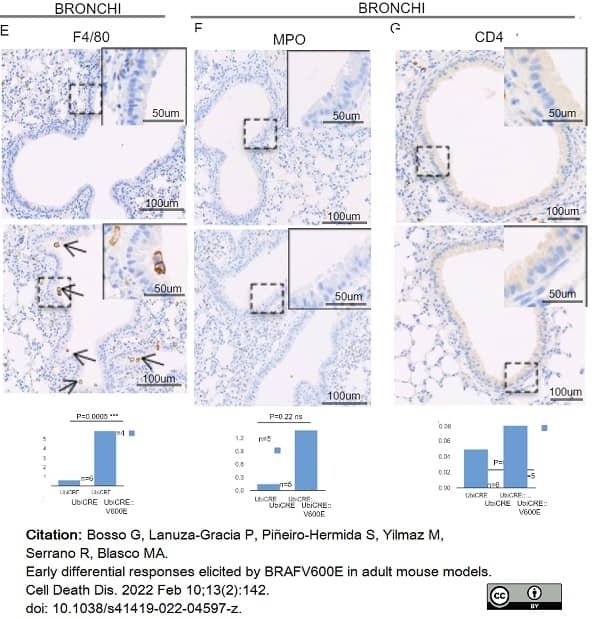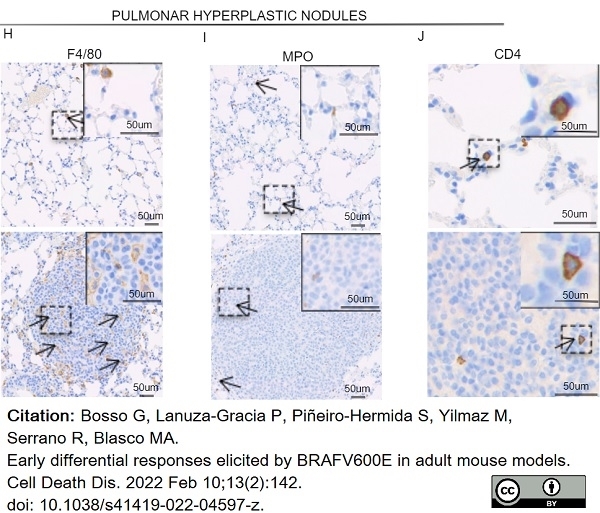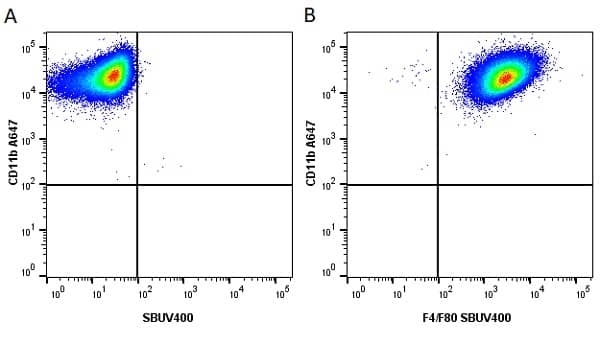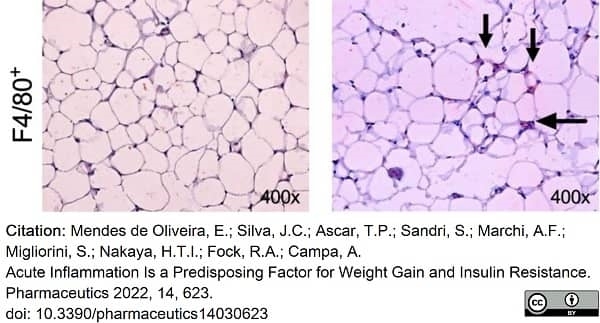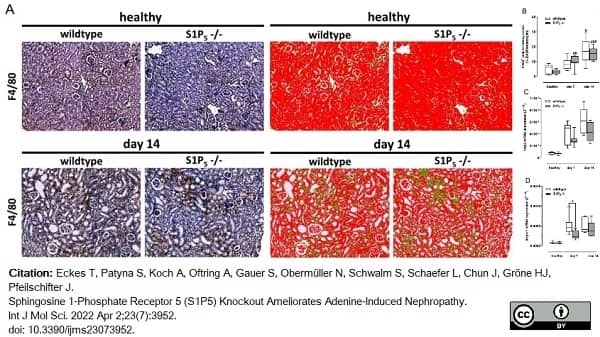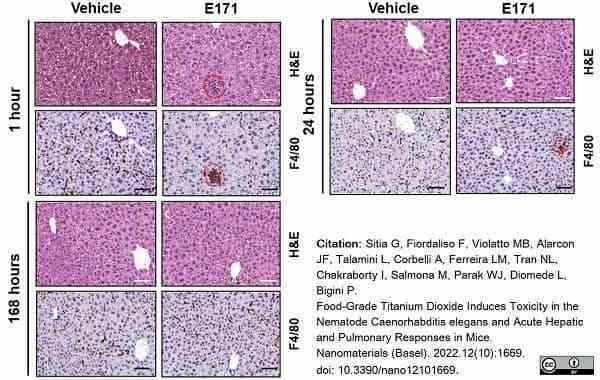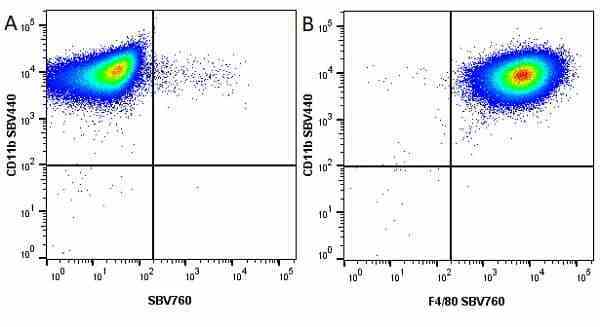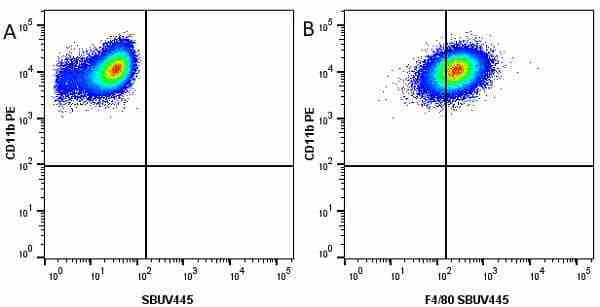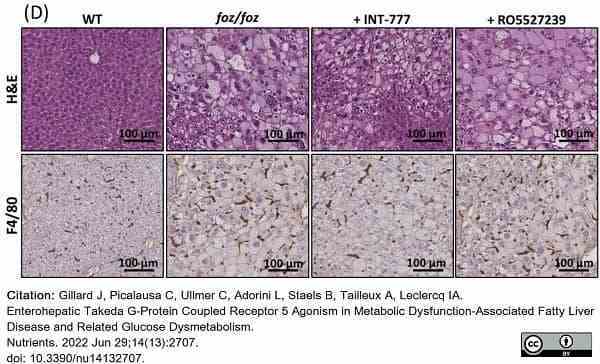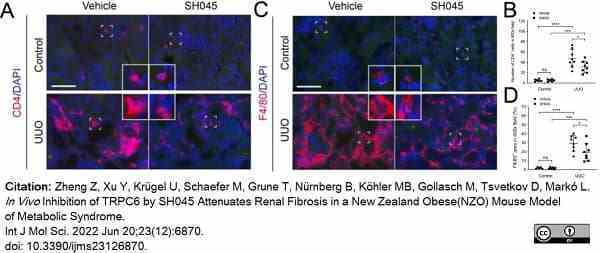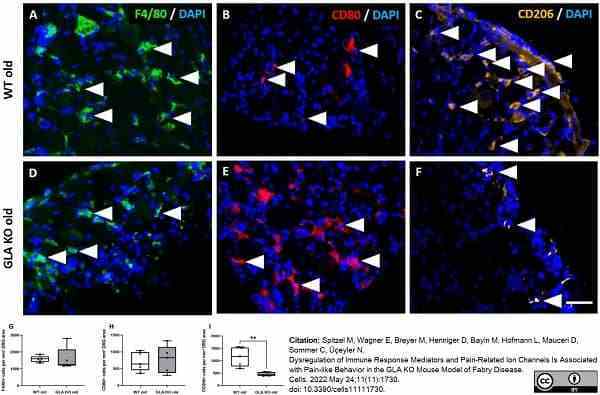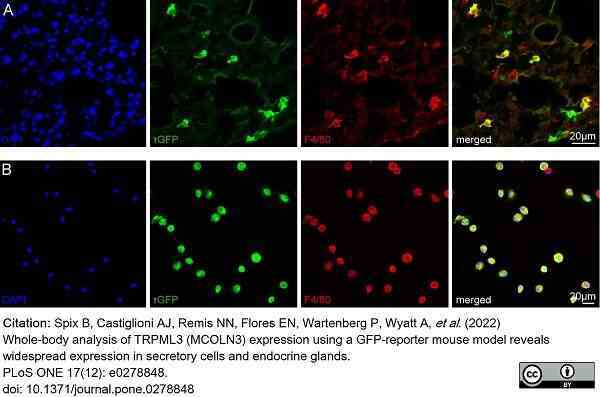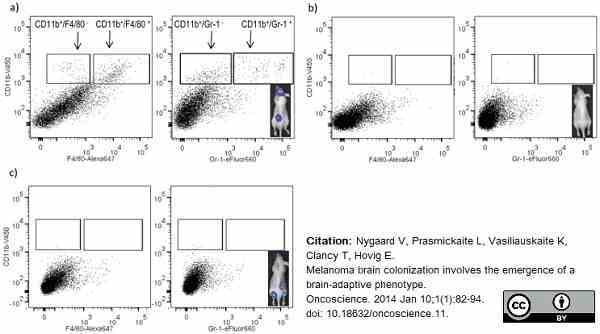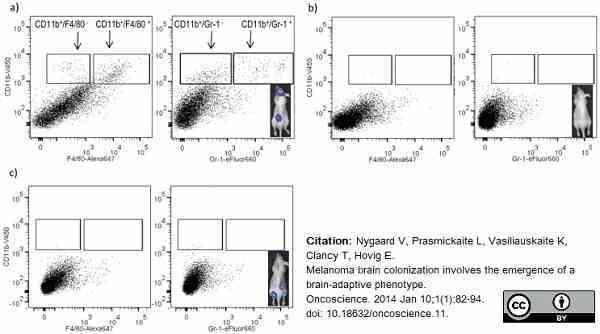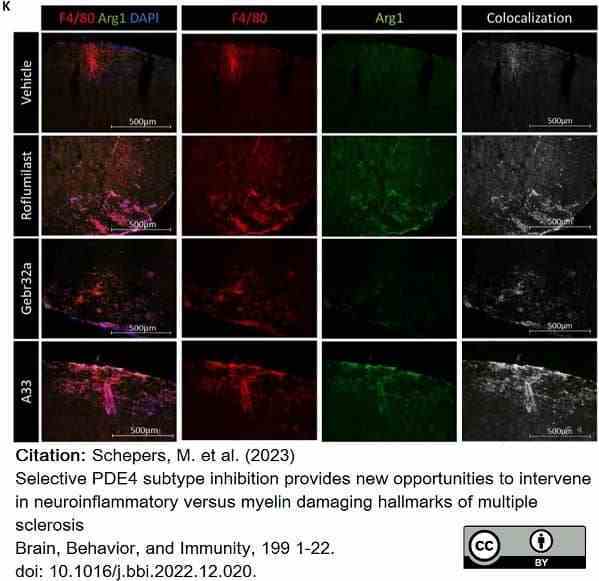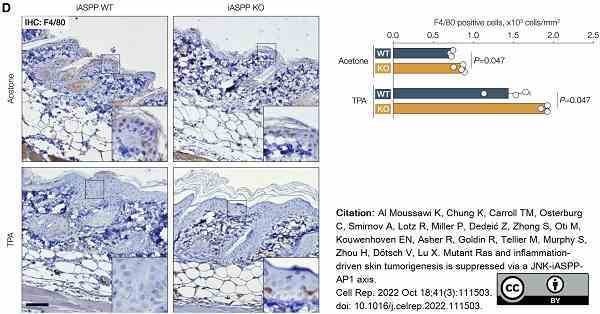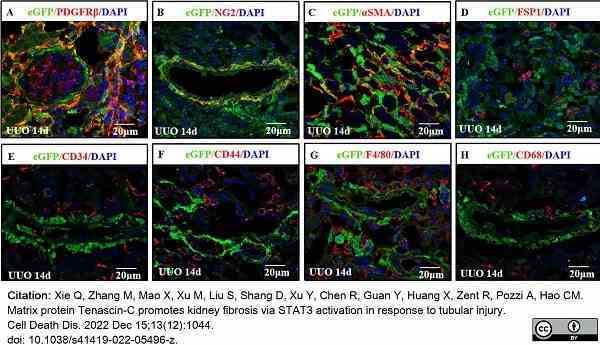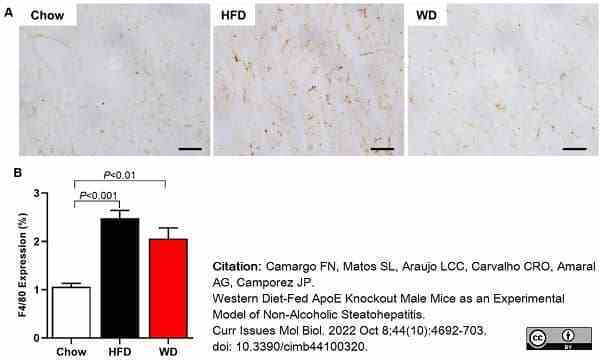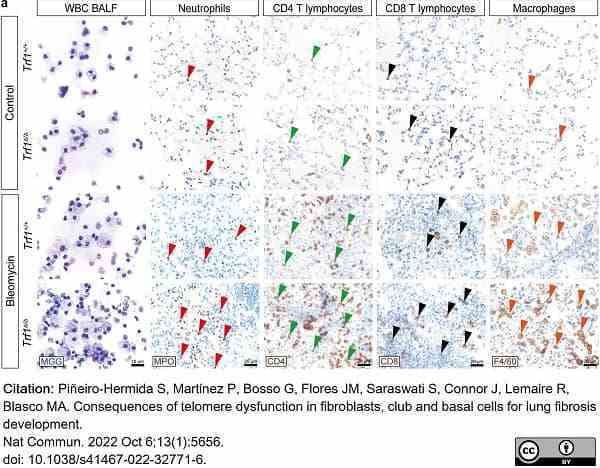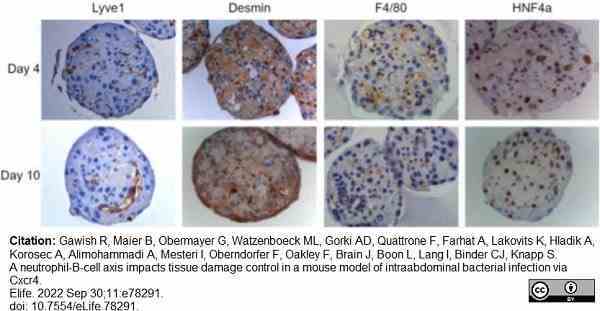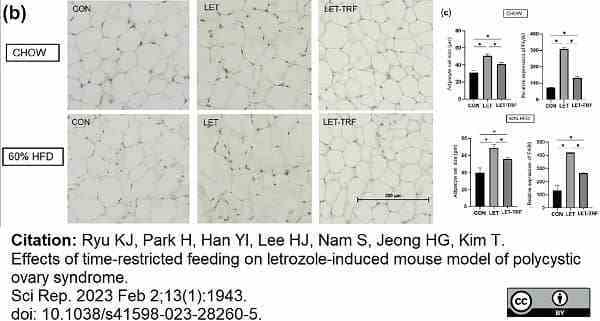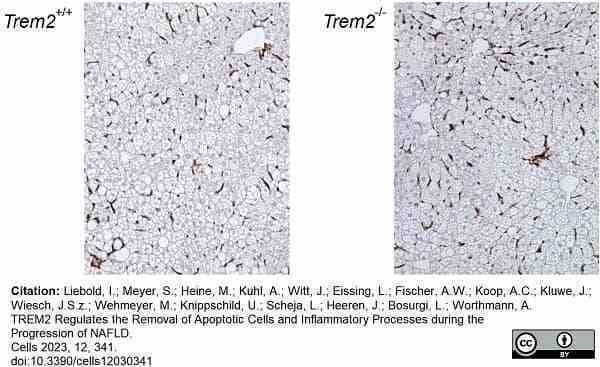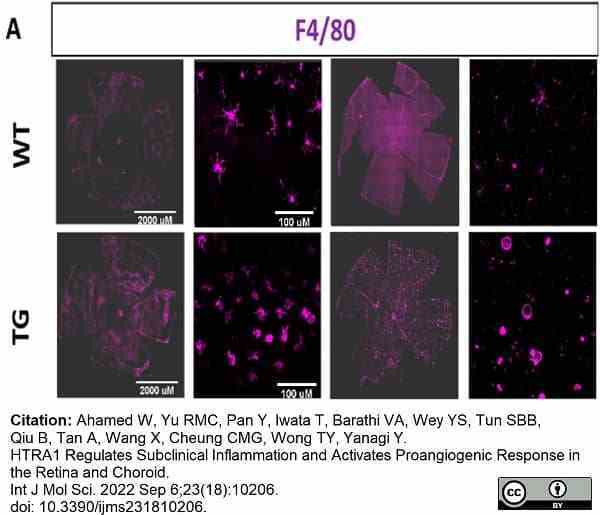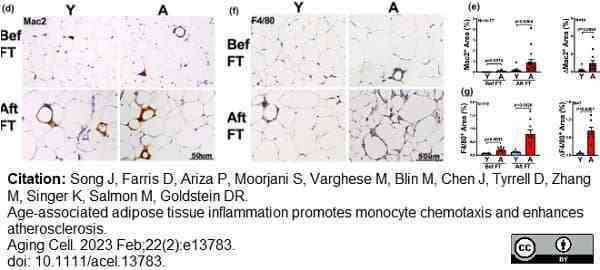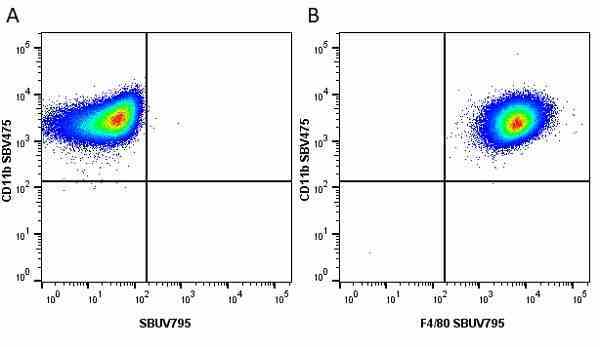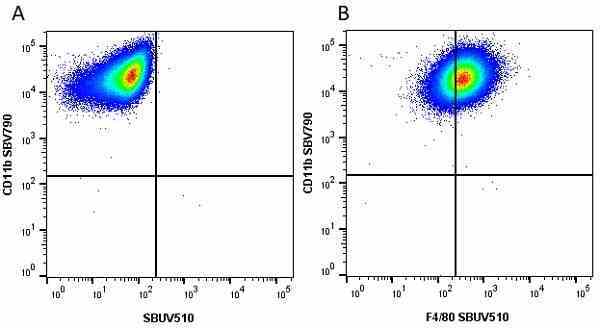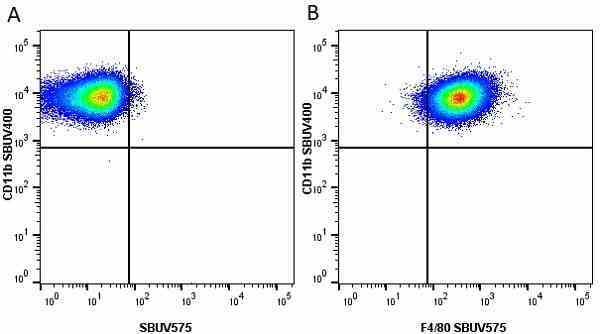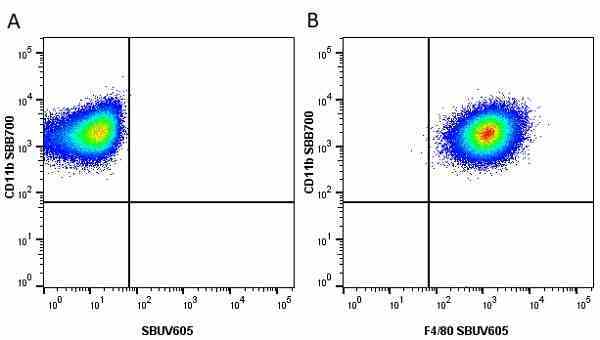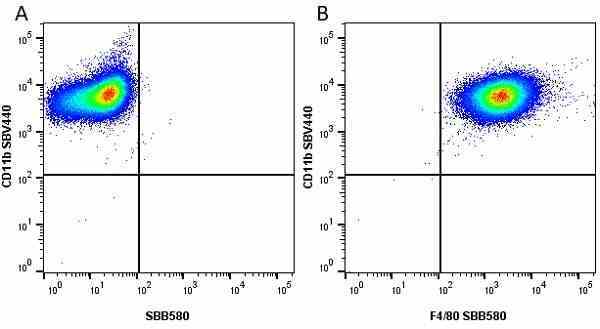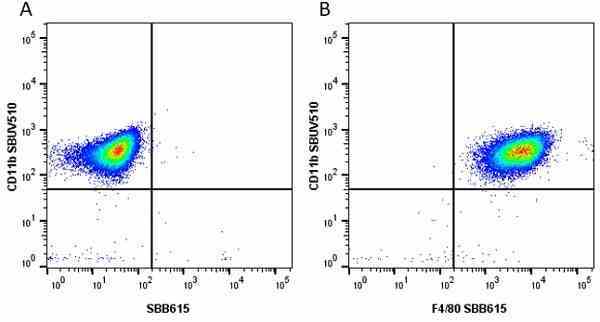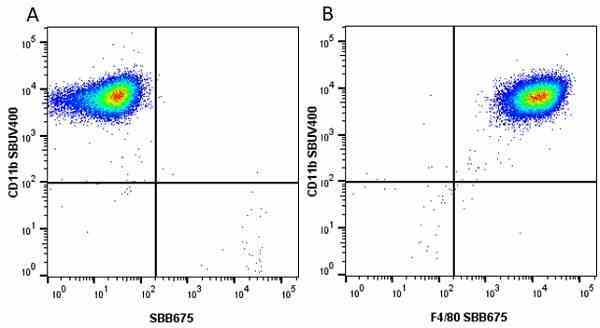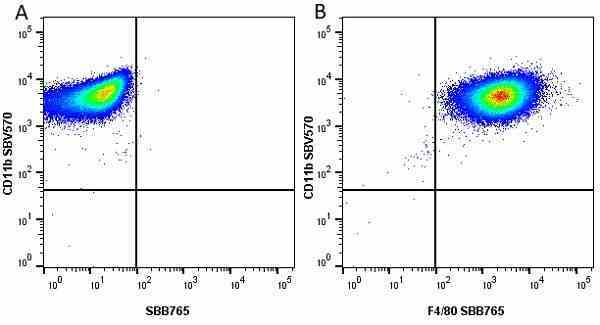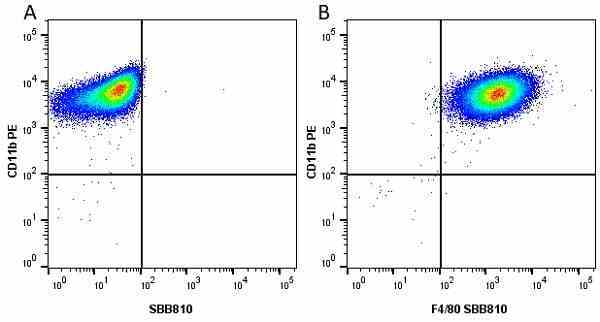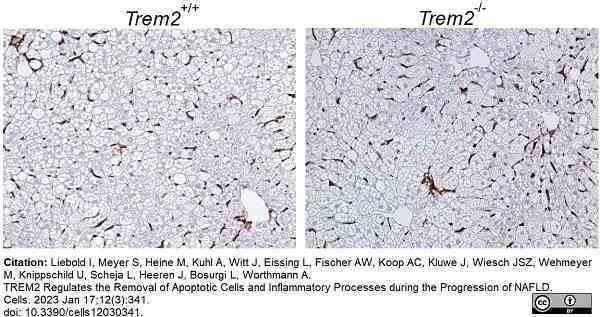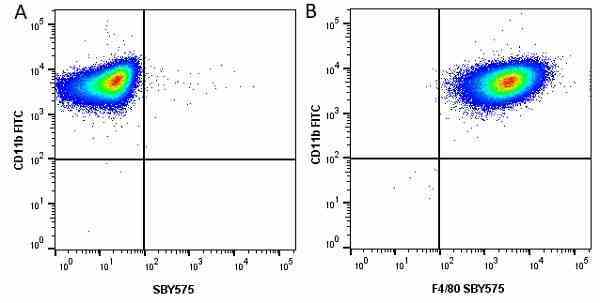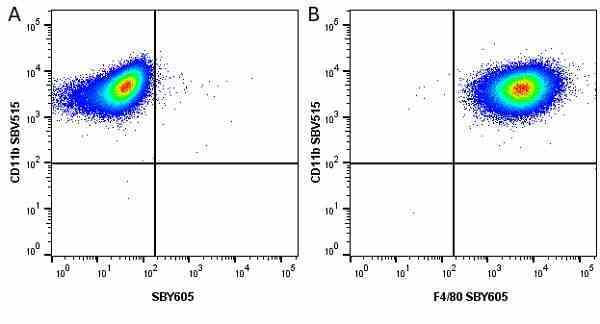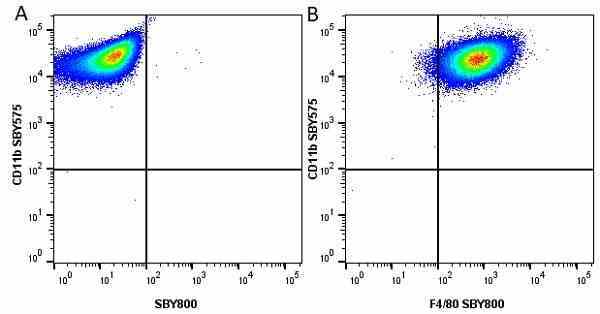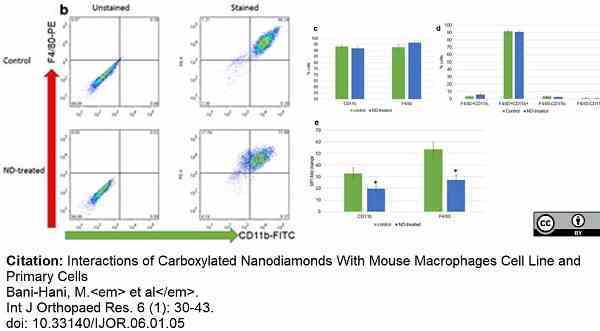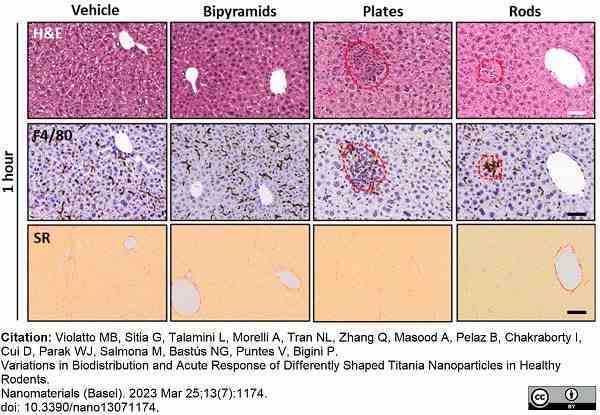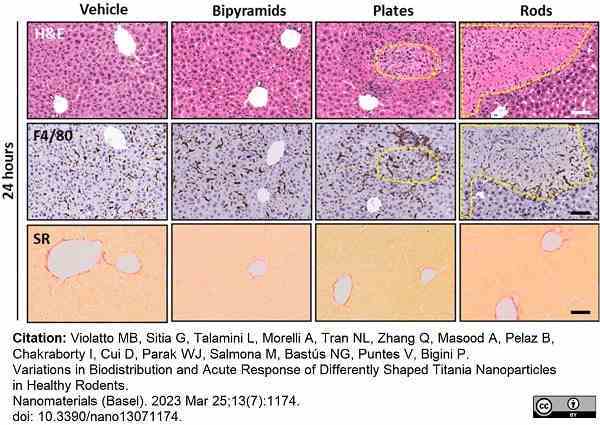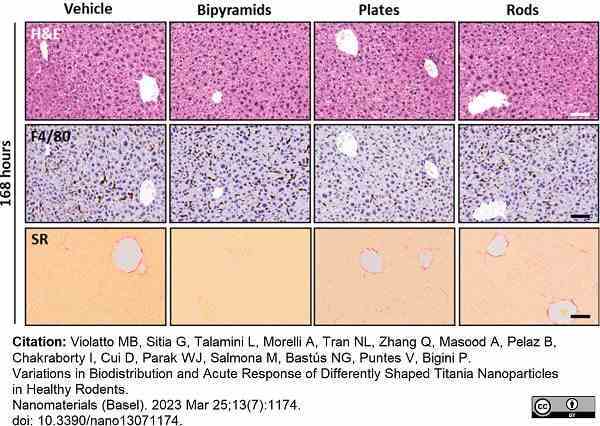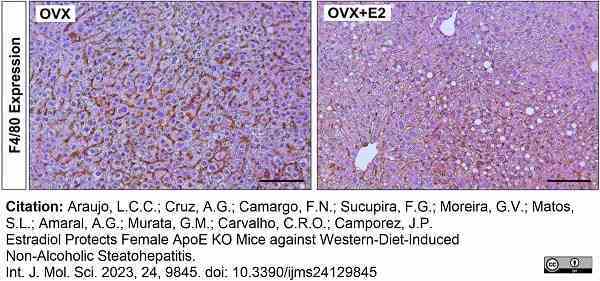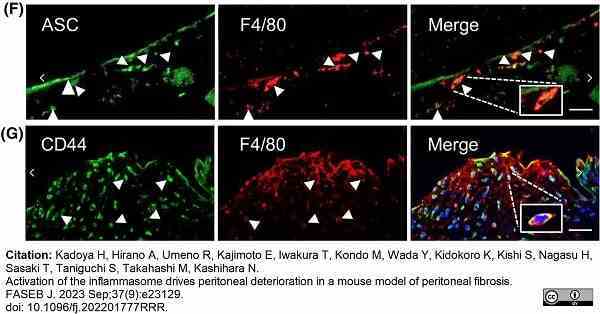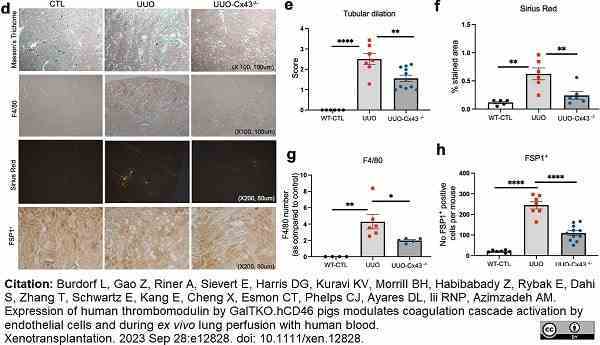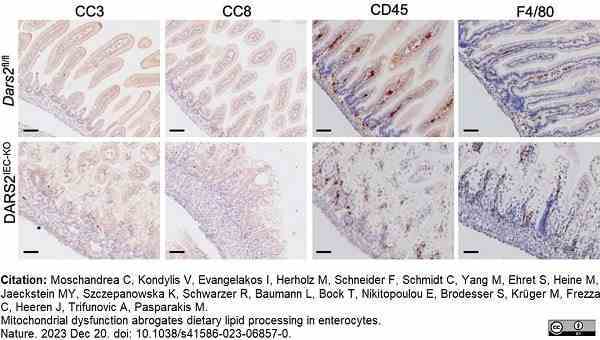 Filter by Application:
F C P IF WB Reset
Rat anti Mouse F4/80
Product Type

Monoclonal Antibody

Clone

Cl:A3-1

Isotype

IgG2b

Specificity

F4/80
---
Rat anti Mouse F4/80 antibody, clone A3-1 recognizes the murine F4/80 antigen, a ~160 kDa cell surface glycoprotein member of the EGF-TM7 family of proteins which shares 68% overall amino acid identity with human EGF module-containing mucin-like hormone receptor 1 (EMR1).

Expression of F4/80 is heterogeneous and is modulated during macrophage maturation and activation. The F4/80 antigen is expressed on a wide range of mature tissue macrophages including Kupffer cells, Langerhans cells, microglia, macrophages located in the gut lamina propria, peritoneal cavity, lung, thymus, bone marrow stroma and macrophages in the red pulp of the spleen (Hume, et al. 1984). F4/80 antigen is also expressed on a subpopulation of dendritic cells but is absent from macrophages located in T cell areas of the spleen and lymph node (Gordon, et al. 1994). The ligands and biological functions of the F4/80 antigen have not been fully determined but a role for F4/80 in the generation of efferent CD8+ve regulatory T cells is proposed (Lin, et al. 2005)

Rat anti mouse F4/80 antibody, clone Cl:A3-1 modulates cytokine levels released in response to Listeria monocytogenes (Warschkau & Kiderlen, 1999).

A Human anti-idiotypic CI:A31 antibody, clone 17867 (HCA154 ) which binds to and blocks activity of Rat anti mouse F4/80 antibody, clone Cl:A3-1 is also available for use as a control in experiments utilizing clone A3-1.

Our F4/80 (Cl:A3-1) Antibody has been referenced in >719 publications*

---

*Based on June 2020 data from CiteAb's antibody search engine.
Target Species

Mouse

Product Form

Tissue Culture Supernatant - liquid

Preparation

Tissue Culture Supernatant containing 0.2M Tris/HCl pH7.4 and 5-10% foetal calf serum

Buffer Solution

None present

Immunogen

Thioglycollate stimulated peritoneal macrophages from C57BL/6 mice.

Fusion Partners

Spleen cells from immunized HOB2 rats were fused with cells of the mouse NS1 myeloma cell line.

Regulatory

For research purposes only

Guarantee

12 months from date of despatch
This product is shipped at ambient temperature. It is recommended to aliquot and store at -20°C on receipt. When thawed, aliquot the sample as needed. Keep aliquots at 2-8°C for short term use (up to 4 weeks) and store the remaining aliquots at -20°C.

Avoid repeated freezing and thawing as this may denature the antibody. Storage in frost-free freezers is not recommended.
This product has been reported to work in the following applications. This information is derived from testing within our laboratories, peer-reviewed publications or personal communications from the originators. Please refer to references indicated for further information. For general protocol recommendations, please visit the antibody protocols page.
| Application Name | Verified | Min Dilution | Max Dilution |
| --- | --- | --- | --- |
| Flow Cytometry | | Neat | 1/10 |
| Immuno-electron Microscopy | | | |
| Immunofluorescence | | | |
| Immunohistology - Frozen | | | |
| Immunohistology - Paraffin 1 | | | |
| Immunohistology - Resin | | | |
| Immunoprecipitation | | | |
| Radioimmunoassays | | | |
1 Rat anti Mouse F4/80 antibody, clone A3-1 requires pre-treatment of paraffin sections prior to staining. Proteinase K is recommended for tissues fixed for less than 24 hours. Citrate buffer pH 6.0 is recommended for tissues fixed for more than 24 hours. Please view the protocol at Antigen Retrieval Techniques.
Where this antibody has not been tested for use in a particular technique this does not necessarily exclude its use in such procedures. Suggested working dilutions are given as a guide only. It is recommended that the user titrates the antibody for use in their own system using appropriate negative/positive controls.


Flow Cytometry

Use 10ul of the suggested working dilution to label 106 cells in 100ul.
Source Reference
Austyn, J.M. & Gordon, S. (1981) F4/80, a monoclonal antibody directed specifically against the mouse macrophage.
Eur J Immunol. 11 (10): 805-15.
Antibody Characterization Reference
Hume, D.A. et al. (1984) The mononuclear phagocyte system of the mouse defined by immunohistochemical localisation of antigen F4/80: macrophages associated with epithelia.
Anat Rec. 210 (3): 503-12.
Lee, S.H. et al. (1985) Quantitative analysis of total macrophage content in adult mouse tissues. Immunochemical studies with monoclonal antibody F4/80.
J Exp Med. 161 (3): 475-89.
References for F4/80 antibody
Warschkau, H. & Kiderlen, A.F. (1999) A monoclonal antibody directed against the murine macrophage surface molecule F4/80 modulates natural immune response to Listeria monocytogenes.
J Immunol. 163 (6): 3409-16.
Moore, K.J. et al. (2000) Divergent response to LPS and bacteria in CD14-deficient murine macrophages.
J Immunol. 165 (8): 4272-80.
Brown, G.D. et al. (2002) Dectin-1 is a major beta-glucan receptor on macrophages.
J Exp Med. 196: 407-12.
Biffi, A. et al. (2004) Correction of metachromatic leukodystrophy in the mouse model by transplantation of genetically modified hematopoietic stem cells.
J Clin Invest. 113: 1118-29.
Dandekar, A.A.et al. (2004) Bystander CD8 T-cell-mediated demyelination is interferon-gamma-dependent in a coronavirus model of multiple sclerosis.
Am J Pathol. 164: 363-9.
Bevaart, L. et al. (2004) CpG oligodeoxynucleotides enhance FcgammaRI-mediated cross presentation by dendritic cells.
Int Immunol. 16: 1091-8.
Pizza, F.X. et al. (2005) Neutrophils contribute to muscle injury and impair its resolution after lengthening contractions in mice.
J Physiol. 562 (Pt 3): 899-913.
Lin, H.H. et al. (2005) The macrophage F4/80 receptor is required for the induction of antigen-specific efferent regulatory T cells in peripheral tolerance.
J Exp Med. 201 (10): 1615-25.
View The Latest Product References
Chan, R.J. et al. (2005) Human somatic PTPN11 mutations induce hematopoietic cell hypersensitivity to granulocyte-macrophage colony stimulating factor
Blood. 105: 3737-3742.
Amano, H. et al. (2005) Absence of recipient CCR5 promotes early and increased allospecific antibody responses to cardiac allografts.
J Immunol. 174: 6499-508.
Anghelina, M. et al. (2006) Monocytes/macrophages cooperate with progenitor cells during neovascularization and tissue repair: conversion of cell columns into fibrovascular bundles.
Am J Pathol. 168: 529-41.
Anatelli, F. et al. (2006) Macrophage-targeted photosensitizer conjugate delivered by intratumoral injection.
Mol Pharm. 3: 654-64.
Dioszeghy, V. et al. (2008) 12/15-Lipoxygenase regulates the inflammatory response to bacterial products in vivo.
J Immunol. 181: 6514-24.
Buga, G.M. et al. (2008) D-4F reduces EO6 immunoreactivity, SREBP-1c mRNA levels, and renal inflammation in LDL receptor-null mice fed a Western diet.
J Lipid Res. 49: 192-205.
Mastrangelo, M.A. & Bowers, W.J. (2008) Detailed immunohistochemical characterization of temporal and spatial progression of Alzheimer's disease-related pathologies in male triple-transgenic mice.
BMC Neurosci. 9: 81.
Davies, M.H. et al. (2008) MCP-1 deficiency delays regression of pathologic retinal neovascularization in a model of ischemic retinopathy.
Invest Ophthalmol Vis Sci. 49: 4195-202.
Cunningham, O. et al. (2009) Microglia and the urokinase plasminogen activator receptor/uPA system in innate brain inflammation.
Glia. 57: 1802-14.
Zumsteg, A. et al. (2009) Myeloid cells contribute to tumor lymphangiogenesis.
PLoS One. 4:e7067.
Hemmi, H. et al. (2009) A new triggering receptor expressed on myeloid cells (Trem) family member, Trem-like 4, binds to dead cells and is a DNAX activation protein 12-linked marker for subsets of mouse macrophages and dendritic cells.
J Immunol. 182:1278-86.
Devey, L. et al. (2009) Tissue-resident macrophages protect the liver from ischemia reperfusion injury via a heme oxygenase-1-dependent mechanism.
Mol Ther. 17: 65-72.
González-Périz, A. et al. (2009) Obesity-induced insulin resistance and hepatic steatosis are alleviated by omega-3 fatty acids: a role for resolvins and protectins.
FASEB J. 23: 1946-57.
Baratta, J.L. et al. (2009) Cellular organization of normal mouse liver: a histological, quantitative immunocytochemical, and fine structural analysis.
Histochem Cell Biol. 131: 713-26.
deSchoolmeester, M.L. et al. (2009) The mannose receptor binds Trichuris muris excretory/secretory proteins but is not essential for protective immunity.
Immunology. 126: 246-55.
Choi, K.M. et al. (2010) CD206-positive M2 macrophages that express heme oxygenase-1 protect against diabetic gastroparesis in mice.
Gastroenterology. 138 (7): 2399-409, 2409.e1.
Seitz, O. et al. (2010) Wound Healing in Mice with High-Fat Diet- or ob Gene-Induced Diabetes-Obesity Syndromes: A Comparative Study
Exp Diabetes Res. 2010: 476969.
Carlsson, F. et al. (2010) Host-detrimental role of Esx-1-mediated inflammasome activation in mycobacterial infection.
PLoS Pathog. 6(5):e1000895.
Cougoule, C. et al. (2010) Three-dimensional migration of macrophages requires Hck for podosome organization and extracellular matrix proteolysis.
Blood. 115: 1444-52.
Zeng, J. & Howard, J.C. (2010) Spontaneous focal activation of invariant natural killer T (iNKT) cells in mouse liver and kidney.
BMC Biol. 8: 142.
Miao, E.A. et al. (2011) Caspase-1-induced pyroptosis is an innate immune effector mechanism against intracellular bacteria.
Nat Immunol. 11: 1136-42.
Sun, G. et al. (2011) RIP2-mediated LKB1 deletion causes axon degeneration in the spinal cord and hind-limb paralysis.
Dis Model Mech. 4: 193-202.
Wang, X. et al. (2011) Activation of the cholinergic antiinflammatory pathway ameliorates obesity-induced inflammation and insulin resistance
Endocrinology. 152: 836-46.
Chauhan, V.S. et al. (2011) Prophylactic and therapeutic targeting of the neurokinin-1 receptor limits neuroinflammation in a murine model of pneumococcal meningitis.
J Immunol. 186: 7255-63.
Baudy, A.R. et al. (2011) Non-invasive optical imaging of muscle pathology in mdx mice using cathepsin caged near-infrared imaging.
Mol Imaging Biol. 13: 462-70.
Kato, J. et al. (2011) ADP-ribosylarginine hydrolase regulates cell proliferation and tumorigenesis.
Cancer Res. 71 (15): 5327-35.
Ge, Q. et al. (2011) Adipokines identified as new downstream targets for adiponectin: lessons from adiponectin-overexpressing or -deficient mice.
Am J Physiol Endocrinol Metab. 301: E326-35.
Dioszeghy, V. et al. (2011) Epicutaneous immunotherapy results in rapid allergen uptake by dendritic cells through intact skin and downregulates the allergen-specific response in sensitized mice.
J Immunol. 186: 5629-37.
Muto, A. et al. (2011) Eph-B4 prevents venous adaptive remodeling in the adult arterial environment.
J Exp Med. 208 (3): 561-75.
Tarallo, V. et al. (2011) The biflavonoid amentoflavone inhibits neovascularization preventing the activity of proangiogenic vascular endothelial growth factors.
J Biol Chem. 286: 19641-51.
Kerschbaumer, R.J. et al. (2012) Neutralization of macrophage migration inhibitory factor (MIF) by fully human antibodies correlates with their specificity for the β-sheet structure of MIF.
J Biol Chem. 287 (10): 7446-55.
Donaldson, D.S. et al. (2012) M cell-depletion blocks oral prion disease pathogenesis.
Mucosal Immunol. 5: 216-25.
Gornicka, A. et al. (2012) Adipocyte hypertrophy is associated with lysosomal permeability both in vivo and in vitro: role in adipose tissue inflammation.
Am J Physiol Endocrinol Metab. 303: E597-606.
Rivollier, A. et al. (2012) Inflammation switches the differentiation program of Ly6Chi monocytes from antiinflammatory macrophages to inflammatory dendritic cells in the colon.
J Exp Med. 209: 139-55.
Hardison, S.E. et al. (2012) Protective immunity against pulmonary cryptococcosis is associated with STAT1-mediated classical macrophage activation.
J Immunol. 189 (8): 4060-8.
Arima M et al. (2012) Involvement of periostin in regression of hyaloidvascular system during ocular development.
Invest Ophthalmol Vis Sci. 53 (10): 6495-503.
Henare, K. et al. (2012) Dissection of stromal and cancer cell-derived signals in melanoma xenografts before and after treatment with DMXAA.
Br J Cancer. 106 (6): 1134-47.
Akbarshahi, H. et al. (2012) Enrichment of Murine CD68(+)CCR2(+) and CD68(+)CD206(+) Lung Macrophages in Acute Pancreatitis-Associated Acute Lung Injury.
PLoS One. 7: e42654.
Bonde, A.K. et al. (2012) Intratumoral macrophages contribute to epithelial-mesenchymal transition in solid tumors.
BMC Cancer. 12: 35.
Ubogu, E.E. et al. (2012) Behavioral, electrophysiological, and histopathological characterization of a severe murine chronic demyelinating polyneuritis model.
J Peripher Nerv Syst. 17 (1): 53-61.
Banda NK et al. (2012) Role of C3a receptors, C5a receptors, and complement protein C6 deficiency in collagen antibody-induced arthritis in mice.
J Immunol. 188 (3): 1469-78.
Tamaki, S. et al. (2013) Interleukin-16 promotes cardiac fibrosis and myocardial stiffening in heart failure with preserved ejection fraction.
PLoS One. 8: e68893.
Jain, U. et al. (2013) The C5a receptor antagonist PMX205 ameliorates experimentally induced colitis associated with increased IL-4 and IL-10.
Br J Pharmacol. 168 (2): 488-501.
Dong, Z. et al. (2013) Specific inhibition of serine/arginine-rich protein kinase attenuates choroidal neovascularization.
Mol Vis. 19: 536-43.
Uaesoontrachoon, K. et al. (2013) Osteopontin deficiency delays inflammatory infiltration and the onset of muscle regeneration in a mouse model of muscle injury.
Dis Model Mech. 6: 197-205.
Nygaard, V. et al. (2014) Melanoma brain colonization involves the emergence of a brain-adaptive phenotype.
Oncoscience. 1 (1): 82-94.
Kihira, Y. et al. (2014) Deletion of hypoxia-inducible factor-1α in adipocytes enhances glucagon-like Peptide-1 secretion and reduces adipose tissue inflammation.
PLoS One. 9(4):e93856.
Zhang, M.Z. et al. (2015) Inhibition of cyclooxygenase-2 in hematopoietic cells results in salt-sensitive hypertension.
J Clin Invest. 125 (11): 4281-94.
Chinzei, N. et al. (2015) P21 deficiency delays regeneration of skeletal muscular tissue.
PLoS One. 10 (5): e0125765.
Sumiyoshi, M. et al. (2015) Antitumor and antimetastatic actions of xanthoangelol and 4-hydroxyderricin isolated from Angelica keiskei roots through the inhibited activation and differentiation of M2 macrophages.
Phytomedicine. 22 (7-8): 759-67.
Kim, M. et al. (2015) Progression of Alport Kidney Disease in Col4a3 Knock Out Mice Is Independent of Sex or Macrophage Depletion by Clodronate Treatment.
PLoS One. 10 (11): e0141231.
Lei, B. et al. (2016) Neuroprotective pentapeptide CN-105 improves functional and histological outcomes in a murine model of intracerebral hemorrhage.
Sci Rep. 6: 34834.
Nagase, M. et al. (2016) Deletion of Rac1GTPase in the Myeloid Lineage Protects against Inflammation-Mediated Kidney Injury in Mice.
PLoS One. 11 (3): e0150886.
Pepe, G. et al. (2017) Self-renewal and phenotypic conversion are the main physiological responses of macrophages to the endogenous estrogen surge.
Sci Rep. 7: 44270.
Glastras, S.J. et al. (2017) The renal consequences of maternal obesity in offspring are overwhelmed by postnatal high fat diet.
PLoS One. 12 (2): e0172644.
Sogawa, Y. et al. (2017) Infiltration of M1, but not M2, macrophages is impaired after unilateral ureter obstruction in Nrf2-deficient mice.
Sci Rep. 7 (1): 8801.
Crompton, M. et al. (2017) A mutation in Nischarin causes otitis media via LIMK1 and NF-κB pathways.
PLoS Genet. 13 (8): e1006969.
Suzuki, Y. et al. (2017) Requisite role of vasohibin-2 in spontaneous gastric cancer formation and accumulation of cancer-associated fibroblasts.
Cancer Sci. 108 (12): 2342-51.
Kawada, S. et al. (2017) Impairment of cold injury-induced muscle regeneration in mice receiving a combination of bone fracture and alendronate treatment.
PLoS One. 12 (7): e0181457.
Peng, Y. (2018) B cell responses to apoptotic cells in MFG-E8-/- mice.
PLoS One. 13 (10): e0205172.
Maydan, O. et al. (2018) Uromodulin deficiency alters tubular injury and interstitial inflammation but not fibrosis in experimental obstructive nephropathy.
Physiol Rep. 6 (6): e13654.
Ubil, E. et al. (2018) Tumor-secreted Pros1 inhibits macrophage M1 polarization to reduce antitumor immune response.
J Clin Invest. 128 (6): 2356-69.
Morimoto, A. et al. (2019) Hemophagocytosis induced by Leishmania donovani. infection is beneficial to parasite survival within macrophages.
PLoS Negl Trop Dis. 13 (11): e0007816.
Wang, H. et al. (2019) Embelin can protect mice from thioacetamide-induced acute liver injury.
Biomed Pharmacother. 118: 109360.
Hanson, K.M. et al. (2019) Apoptosis Resistance in Fibroblasts Precedes Progressive Scarring in Pulmonary Fibrosis and Is Partially Mediated by Toll-Like Receptor 4 Activation.
Toxicol Sci. 170 (2): 489-498.
Teixeira, D.E. et al. (2019) Lithium ameliorates tubule-interstitial injury through activation of the mTORC2/protein kinase B pathway.
PLoS One. 14 (4): e0215871.
WasgewatteWijesinghe, D.K. et al. (2019) Normal inflammation and regeneration of muscle following injury require osteopontin from both muscle and non-muscle cells.
Skelet Muscle. 9 (1): 6.
Saitoh, K. et al. (2019) Effect of dietary fish oil on enhanced inflammation and disturbed lipophagy in white adipose tissue caused by a high fat diet
Fisheries Science. 86 (1): 187-96.
Ehsanipour, A. et al. (2019) Injectable, Hyaluronic Acid-Based Scaffolds with Macroporous Architecture for Gene Delivery.
Cell Mol Bioeng. 12 (5): 399-413.
Talamini, L. et al. (2019) Repeated administration of the food additive E171 to mice results in accumulation in intestine and liver and promotes an inflammatory status.
Nanotoxicology. 13 (8): 1087-101.
Alendar, A. et al. (2020) Gene expression regulation by the Chromodomain helicase DNA-binding protein 9 (CHD9) chromatin remodeler is dispensable for murine development.
PLoS One. 15 (5): e0233394.
Graff, E.C. et al. (2020) The Absence of Adiponectin Alters Niacin's Effects on Adipose Tissue Inflammation in Mice.
Nutrients. 12 (8): 2427.
Roche-Molina, M. et al. (2020) The pharmaceutical solvent N-methyl-2-pyrollidone (NMP) attenuates inflammation through Krüppel-like factor 2 activation to reduce atherogenesis.
Sci Rep. 10 (1): 11636.
Jansen, M.P.B. et al. (2020) Experimental thrombocytopenia does not affect acute kidney injury 24 hours after renal ischemia reperfusion in mice.
Platelets. 31 (3): 383-391.
Wu, C.Y. et al. (2020) Tris DBA ameliorates IgA nephropathy by blunting the activating signal of NLRP3 inflammasome through SIRT1- and SIRT3-mediated autophagy induction.
J Cell Mol Med.24 (23): 13609-22.
Liguori, M. et al. (2020) The soluble glycoprotein NMB (GPNMB) produced by macrophages induces cancer stemness and metastasis via CD44 and IL-33.
Cell Mol Immunol. 18 (3): 711-22.
Robichon, K. et al. (2020) Identification of Interleukin1β as an Amplifier of Interferon alpha-induced Antiviral Responses.
PLoS Pathog. 16 (10): e1008461.
Zhang, J. et al. (2020) Triptolide attenuates renal damage by limiting inflammatory responses in DOCA-salt hypertension.
Int Immunopharmacol. 89 (Pt A): 107035.
Hoover, A.A. et al. (2020) Increased canonical NF-kappaB signaling specifically in macrophages is sufficient to limit tumor progression in syngeneic murine models of ovarian cancer.
BMC Cancer. 20 (1): 970.
Ni, J. et al. (2020) Dual deficiency of angiotensin-converting enzyme-2 and Mas receptor enhances angiotensin II-induced hypertension and hypertensive nephropathy.
J Cell Mol Med.24 (22): 13093-13103.
Munro, D.A.D. et al. (2020) CNS macrophages differentially rely on an intronic Csf1r enhancer for their development.
Development. 147 (23): dev194449.
Lai, K. et al. (2020) Triptolide attenuates laser-induced choroidal neovascularization via M2 macrophage in a mouse model.
Biomed Pharmacother. 129: 110312.
Choi, E.W. et al. (2020) Fas mutation reduces obesity by increasing IL-4 and IL-10 expression and promoting white adipose tissue browning.
Sci Rep. 10 (1): 12001.
Kerber, E.L. et al. (2020) The Importance of Hypoxia-Inducible Factors (HIF-1 and HIF-2) for the Pathophysiology of Inflammatory Bowel Disease.
Int J Mol Sci. 21 (22): 8551.
Creed, J. et al. (2020) Argon Inhalation for 24 h After Closed-Head Injury Does not Improve Recovery, Neuroinflammation, or Neurologic Outcome in Mice.
Neurocrit Care. 34 (3): 833-43.
Jablonski, K. et al. (2020) Physical activity prevents acute inflammation in a gout model by downregulation of TLR2 on circulating neutrophils as well as inhibition of serum CXCL1 and is associated with decreased pain and inflammation in gout patients.
PLoS One. 15 (10): e0237520.
Bae, C.R. et al. (2020) The endothelial dysfunction blocker CU06-1004 ameliorates choline-deficient L-amino acid diet-induced non-alcoholic steatohepatitis in mice.
PLoS One. 15 (12): e0243497.
Hitchcock, J.R. et al. (2020) Dynamic architectural interplay between leucocytes and mammary epithelial cells.
FEBS J. 287 (2): 250-66.
Ellman, D.G. et al. (2020) Conditional Ablation of Myeloid TNF Improves Functional Outcome and Decreases Lesion Size after Spinal Cord Injury in Mice.
Cells. 9 (11): 2407.
Yamashita, S. et al. (2020) Essential roles of oncostatin M receptor β signaling in renal crystal formation in mice.
Sci Rep. 10 (1): 17150.
Takahashi, M. et al. (2020) Macrophages fine-tune pupil shape during development.
Dev Biol. 464 (2): 137-44.
Wong, M.Y. et al. (2020) Semicarbazide-sensitive amine oxidase inhibition ameliorates albuminuria and glomerulosclerosis but does not improve tubulointerstitial fibrosis in diabetic nephropathy.
PLoS One. 15 (6): e0234617.
Bender, L.H. et al. (2020) Intratumoral Administration of a Novel Cytotoxic Formulation with Strong Tissue Dispersive Properties Regresses Tumor Growth and Elicits Systemic Adaptive Immunity in In Vivo Models.
Int J Mol Sci. 21 (12): 4493.
Fan, A. et al. (2020) High-salt diet decreases mechanical thresholds in mice that is mediated by a CCR2-dependent mechanism.
J Neuroinflammation. 17 (1): 179.
Fukushima, H. et al. (2020) Changes in Function and Dynamics in Hepatic and Splenic Macrophages in Non-Alcoholic Fatty Liver Disease.
Clin Exp Gastroenterol. 13: 305-14.
Otobe, S. et al. (2020) CX3CR1 Deficiency Attenuates DNFB-Induced Contact Hypersensitivity Through Skewed Polarization Towards M2 Phenotype in Macrophages.
Int J Mol Sci. 21 (19): 7401.
Hayashi, Y. et al. (2020) Cochlear supporting cells function as macrophage-like cells and protect audiosensory receptor hair cells from pathogens.
Sci Rep. 10 (1): 6740.
Tachibana, M. et al. (2020) Ablation of IL-17A leads to severe colitis in IL-10-deficient mice: implications of myeloid-derived suppressor cells and NO production.
Int Immunol. 32 (3): 187-201.
Sasaki, Y. et al. (2020) Pemafibrate, a selective PPARα modulator, prevents non-alcoholic steatohepatitis development without reducing the hepatic triglyceride content.
Sci Rep. 10 (1): 7818.
Zhong, L. et al. (2020) RANKL Is Involved in Runx2-Triggered Hepatic Infiltration of Macrophages in Mice with NAFLD Induced by a High-Fat Diet.
Biomed Res Int. 2020: 6953421.
Park, J.S. et al. (2020) Clusterin overexpression protects against western diet-induced obesity and NAFLD.
Sci Rep. 10 (1): 17484.
Tseng, W-C. et al.. (2020) Trichostatin A Alleviates Renal Interstitial Fibrosis Through Modulation of the M2 Macrophage Subpopulation
Int J Mol Sci. 21(17):E5966.
Guo, X. et al. (2020) Adoptive transfer of Pfkfb3-disrupted hematopoietic cells to wild-type mice exacerbates diet-induced hepatic steatosis and inflammation
Liver Res. 4 (3): 136-44.
Laurien, L. et al. (2020) Autophosphorylation at serine 166 regulates RIP kinase 1-mediated cell death and inflammation.
Nat Commun. 11 (1): 1747.
Dong, L. et al. (2021) Deletion of Smad3 protects against diabetic myocardiopathy in db/db mice.
J Cell Mol Med. 25 (10): 4860-9.
Zhang, J. et al. (2021) A pulsatile release platform based on photo-induced imine-crosslinking hydrogel promotes scarless wound healing.
Nat Commun. 12 (1): 1670.
Zhu, B. et al. (2021) Adipose tissue inflammation and systemic insulin resistance in mice with diet-induced obesity is possibly associated with disruption of PFKFB3 in hematopoietic cells.
Lab Invest. 101 (3): 328-40.
Sugita, J. et al. (2021) Cardiac macrophages prevent sudden death during heart stress.
Nat Commun. 12 (1): 1910.
Hasuzawa, N. et al. (2021) Clodronate, an inhibitor of the vesicular nucleotide transporter, ameliorates steatohepatitis and acute liver injury.
Sci Rep. 11 (1): 5192.
Makiishi, S. et al. (2021) Carnitine/organic cation transporter 1 precipitates the progression of interstitial fibrosis through oxidative stress in diabetic nephropathy in mice.
Sci Rep. 11 (1): 9093.
Cheng, P. et al. (2021) Aldose reductase deficiency inhibits LPS-induced M1 response in macrophages by activating autophagy.
Cell Biosci. 11 (1): 61.
Dalla Pietá, A. et al. (2021) Hyaluronan is a natural and effective immunological adjuvant for protein-based vaccines.
Cell Mol Immunol. 18 (5): 1197-210.
Kuzumoto, T. et al. (2021) Protective role of resolvin D1, a pro-resolving lipid mediator, in nonsteroidal anti-inflammatory drug-induced small intestinal damage.
PLoS One. 16 (5): e0250862.
Menz, J. et al. (2021) Increased mortality and altered local immune response in secondary peritonitis after previous visceral operations in mice.
Sci Rep. 11 (1): 16175.
Xu, H. et al. (2021) Adipocyte inducible 6-phosphofructo-2-kinase suppresses adipose tissue inflammation and promotes macrophage anti-inflammatory activation.
J Nutr Biochem. 95: 108764.
Fritz, N.M. et al. (2021) Cytomegalovirus chemokine receptor M33 knockout reduces chronic allograft rejection in a murine aortic transplant model.
Transpl Immunol. 64: 101359.
Kim, J.I. et al. (2021) IDH2 gene deficiency accelerates unilateral ureteral obstructioninduced kidney inflammation through oxidative stress and activation of macrophages.
Korean J Physiol Pharmacol. 25 (2): 139-46.
Otsuka, H. et al. (2021) Histidine decarboxylase deficiency inhibits NBP-induced extramedullary hematopoiesis by modifying bone marrow and spleen microenvironments.
Int J Hematol. 113 (3): 348-61.
Wu, W. et al. (2021) Latent TGF-β1 protects against diabetic kidney disease via Arkadia/Smad7 signaling.
Int J Biol Sci. 17 (13): 3583-94.
de, A.G. et al. (2021) Characterization of tumor-associated macrophages in prostate cancer transgenic mouse models.
Prostate. 81 (10): 629-47.
Stewart, A.N. et al. (2021) Acute inflammatory profiles differ with sex and age after spinal cord injury.
J Neuroinflammation. 18 (1): 113.
Iwama, H. et al. (2021) Cathepsin B and D deficiency in the mouse pancreas induces impaired autophagy and chronic pancreatitis.
Sci Rep. 11 (1): 6596.
Umbarawan, Y. et al. (2021) FABP5 Is a Sensitive Marker for Lipid-Rich Macrophages in the Luminal Side of Atherosclerotic Lesions.
Int Heart J. 62 (3): 666-676.
Eubler, K. et al. (2021) Exploring the Ion Channel TRPV2 and Testicular Macrophages in Mouse Testis
Int J Mol Sci. 22 (9): 4727.
Vito, A. et al. (2021) Combined Radionuclide Therapy and Immunotherapy for Treatment of Triple Negative Breast Cancer
Int J Mol Sci. 22 (9): 4843.
An, C. et al. (2022) Myeloid PTEN deficiency aggravates renal inflammation and fibrosis in angiotensin II-induced hypertension.
J Cell Physiol. 237 (1): 983-91.
Liu, Y.T. et al. (2021) Seed- and Soil-Dependent Differences in Murine Breast Tumor Microenvironments Dictate Anti-PD-L1 IgG Delivery and Therapeutic Efficacy.
Pharmaceutics. 13(4): 530.
Cyge, B. et al. (2021) Loss of the ciliary protein Chibby1 in mice leads to exocrine pancreatic degeneration and pancreatitis.
Sci Rep. 11 (1): 17220.
Schünke, H. et al. (2021) OTULIN inhibits RIPK1-mediated keratinocyte necroptosis to prevent skin inflammation in mice.
Nat Commun. 12 (1): 5912.
Rabe, D.C. et al. (2021) Tumor Extracellular Vesicles Regulate Macrophage-Driven Metastasis through CCL5.
Cancers (Basel). 13 (14): 3459.
Nanou, A. et al. (2021) Endothelial Tpl2 regulates vascular barrier function via JNK-mediated degradation of claudin-5 promoting neuroinflammation or tumor metastasis.
Cell Rep. 35 (8): 109168.
Matsuura, R. et al. (2021) Preexisting heart failure with reduced ejection fraction attenuates renal fibrosis after ischemia reperfusion via sympathetic activation.
Sci Rep. 11 (1): 15091.
Nosaka, M. et al. (2021) Intrathrombotic appearances of AQP-1 and AQP-3 in relation to thrombus age in murine deep vein thrombosis model.
Int J Legal Med. 135 (2): 547-53.
Farahat, M. et al. (2021) Effect of Biomechanical Environment on Degeneration of Meckel's Cartilage.
J Dent Res. 100 (2): 171-178.
Fantin, A. et al. (2021) KIT Is Required for Fetal Liver Hematopoiesis.
Front Cell Dev Biol. 9: 648630.
Verdoodt, D. et al. (2021) Cochlin Deficiency Protects Aged Mice from Noise-Induced Hearing Loss.
Int J Mol Sci.22 (21): 11549.
Chang, M. et al. (2022) Metformin induces lactate accumulation and accelerates renal cyst progression in Pkd1-deficient mice
Human Molecular Genetics. 31 (10): 1560-1573.
Wu, W. et al. (2021) Buyang Huanwu Decoction protects against STZ-induced diabetic nephropathy by inhibiting TGF-β/Smad3 signaling-mediated renal fibrosis and inflammation.
Chin Med. 16 (1): 118.
Teuwen, L.A. et al. (2021) Tumor vessel co-option probed by single-cell analysis.
Cell Rep. 35 (11): 109253.
Das, J.R. et al. (2021) Circulating fibroblast growth factor-2 precipitates HIV nephropathy in mice.
Dis Model Mech. 14 (7): dmm048980.
Wada, I. et al. (2021) Retinal VEGF-A Overexpression Is Not Sufficient to Induce Lymphangiogenesis Regardless of VEGF-C Upregulation and Lyve1+ Macrophage Infiltration.
Invest Ophthalmol Vis Sci. 62 (13): 17.
Schmidtke, L. et al. (2021) Knockout of the KH-Type Splicing Regulatory Protein Drives Glomerulonephritis in MRL-Faslpr Mice.
Cells. 10 (11): 3167.
Lanigan, L.G. et al. (2021) In Vivo. Tumorigenesis, Osteolytic Sarcomas, and Tumorigenic Cell Lines from Transgenic Mice Expressing the Human T-Lymphotropic Virus Type 1 (HTLV-1) Tax Viral Oncogene.
Am J Pathol. 191 (2): 335-52.
Fagoonee, S. et al. (2022) Circulating Extracellular Vesicles Contain Liver-Derived RNA Species as Indicators of Severe Cholestasis-Induced Early Liver Fibrosis in Mice.
Antioxid Redox Signal. 36 (7-9): 480-504.
Kido, Y. et al. (2021) Genetic deletion of Vegfr2 in endothelial cells leads to immediate disruption of tumor vessels and aggravation of hypoxia.
Am J Pathol. 2021: S0002-9440(21)00511-3.
Aschman, T. et al. (2021) Interferon Lambda Regulates Cellular and Humoral Immunity in Pristane-Induced Lupus.
Int J Mol Sci. 22(21):11747.
Jala, V.R. et al. (2021) Absence of CCR2 reduces spontaneous intestinal tumorigenesis in the Apc(Min) (/+) mouse model.
Int J Cancer. Jan 26 [Epub ahead of print].
Fukase, M. et al. (2022) Intravenous injection of human multilineage-differentiating stress-enduring cells alleviates mouse severe acute pancreatitis without immunosuppressants.
Surg Today. 52 (4): 603-615.
Chen, C. et al. (2021) Activation of the Unfolded Protein Response (UPR) Is Associated with Cholangiocellular Injury, Fibrosis and Carcinogenesis in an Experimental Model of Fibropolycystic Liver Disease
Cancers. 14 (1): 78.
Boki, H. et al. (2021) Lymphatic dysfunction exacerbates cutaneous tumorigenesis and psoriasis-like skin inflammation through accumulation of inflammatory cytokines.
J Invest Dermatol. Nov 12; S0022-202X(21)02472-6.
Ohmura, Y. et al. (2021) Natural Killer T Cells Are Involved in Atherosclerotic Plaque Instability in Apolipoprotein-E Knockout Mice.
Int J Mol Sci. 22(22):12451.
Hudkins, K.L. et al. (2021) Regression of diabetic nephropathy by treatment with empagliflozin in BTBR ob/ob mice.
Nephrol Dial Transplant. 37 (5): 847-59.
Suffee, N. et al. (2021) Impacts of a high fat diet on the metabolic profile and the phenotype of atrial myocardium in mice.
Cardiovasc Res.118 (15): 3126-39.
Yang, S.R. et al. (2021) Cf-02, a novel benzamide-linked small molecule, blunts NF-κB activation and NLRP3 inflammasome assembly and improves acute onset of accelerated and severe lupus nephritis in mice.
FASEB J. 35 (8): e21785.
Allen, A.C. et al. (2021) Parallel in vivo. experimental evolution reveals that increased stress resistance was key for the emergence of persistent tuberculosis bacilli.
Nat Microbiol. 6 (8): 1082-1093.
Barboza, P.A. et al. (2021) Acute cylindrospermopsin exposure: Pulmonary and liver harm and mitigation by dexamethasone.
Toxicon. 191: 18-24.
Sumiyoshi, H. et al. (2021) External administration of moon jellyfish collagen solution accelerates physiological wound healing and improves delayed wound closure in diabetic model mice.
Regen Ther. 18: 223-30.
Yoon, Y.S. et al. (2021) Activation of the adipocyte CREB/CRTC pathway in obesity.
Commun Biol. 4 (1): 1214.
Epperly, M.W. et al. (2021) Radiation-Induced Senescence in p16+/LUC Mouse Lung Compared to Bone Marrow Multilineage Hematopoietic Progenitor Cells.
Radiat Res. 196 (3): 235-49.
Yang, F. et al. (2021) Regulatory role and mechanisms of myeloid TLR4 in anti-GBM glomerulonephritis.
Cell Mol Life Sci. 78 (19-20): 6721-34.
Suffee, N. et al. (2022) Impacts of a high-fat diet on the metabolic profile and the phenotype of atrial myocardium in mice.
Cardiovasc Res. 118 (15): 3126-39.
McGonigal, R. et al. (2021) Neuronally expressed a-series gangliosides are sufficient to prevent the lethal age-dependent phenotype in GM3-only expressing mice.
J Neurochem. 158 (2): 217-32.
Baraibar-Churio, A. et al. (2021) Deficiency of MMP-10 Aggravates the Diseased Phenotype of Aged Dystrophic Mice
Life. 11 (12): 1398.
Bormann, T. et al. (2021) Role of the COX2-PGE2 axis in S. pneumoniae-induced exacerbation of experimental fibrosis.
Am J Physiol Lung Cell Mol Physiol. 320 (3): L377-L392.
Wu, L. et al. (2021) The Attenuation of Diabetic Nephropathy by Annexin A1 via Regulation of Lipid Metabolism Through the AMPK/PPARα/CPT1b Pathway.
Diabetes. 70 (10): 2192-203.
Liu, Y. et al. (2022) Nrf2 deficiency deteriorates diabetic kidney disease in Akita model mice.
Redox Biol. 58: 102525.
Klein, D. et al. (2022) Early targeting of endoneurial macrophages alleviates the neuropathy and affects abnormal Schwann cell differentiation in a mouse model of Charcot-Marie-Tooth 1A.
Glia. 70 (6): 1100-16.
Domoto, R. et al. (2022) Role of neuron-derived ATP in paclitaxel-induced HMGB1 release from macrophages and peripheral neuropathy.
J Pharmacol Sci. 148 (1): 156-61.
Celus, W. et al. (2022) Plexin-A4 Mediates Cytotoxic T-cell Trafficking and Exclusion in Cancer.
Cancer Immunol Res. 10 (1): 126-41.
Howard, F.H.N. et al. (2022) Nanobugs as Drugs: Bacterial Derived Nanomagnets Enhance Tumor Targeting and Oncolytic Activity of HSV-1 Virus.
Small. : e2104763.
Alegre, F. et al. (2022) Macrophages Modulate Hepatic Injury Involving NLRP3 Inflammasome: The Example of Efavirenz.
Biomedicines. 10 (1): 109.
Beuker, C. et al. (2022) Stroke induces disease-specific myeloid cells in the brain parenchyma and pia.
Nat Commun. 13 (1): 945.
Djudjaj, S. et al. (2022) Activation of Notch3 in Renal Tubular Cells Leads to Progressive Cystic Kidney Disease.
Int J Mol Sci. 23(2):884.
Bosso, G. et al. (2022) Early differential responses elicited by BRAFV600E in adult mouse models.
Cell Death Dis. 13 (2): 142.
Leary, N. et al. (2022) Melanoma-derived extracellular vesicles mediate lymphatic remodelling and impair tumour immunity in draining lymph nodes.
J Extracell Vesicles. 11 (2): e12197.
Xie, H. et al. (2022) An immune-sympathetic neuron communication axis guides adipose tissue browning in cancer-associated cachexia.
Proc Natl Acad Sci U S A. 119 (9): e2112840119.
Eckes, T. et al. (2022) Sphingosine 1-Phosphate Receptor 5 (S1P 5) Knockout Ameliorates Adenine-Induced Nephropathy
Int J Mol Sci. 23 (7): 3952.
Schützhold, V. et al. (2022) Knockout of Factor-Inhibiting HIF (Hif1an) in Colon Epithelium Attenuates Chronic Colitis but Does Not Reduce Colorectal Cancer in Mice.
J Immunol. 208 (5): 1280-91.
Sarkar, T. et al. (2022) Perinatal exposure to synergistic multiple stressors leads to cellular and behavioral deficits mimicking Schizophrenia-like pathology.
Biol Open. 11 (3): bio058870.
Zheng, Z. et al. (2022) In Vivo. Inhibition of TRPC6 by SH045 Attenuates Renal Fibrosis in a New Zealand Obese (NZO) Mouse Model of Metabolic Syndrome.
Int J Mol Sci. 23 (12): 6870.
Wu, T-C. et al. (2022) Tolvaptan reduces angiotensin II-induced experimental abdominal aortic aneurysm and dissection.
Vascul Pharmacol. : 106973.
Okada, K. et al. (2022) Role of Macrophages and Plasminogen Activator Inhibitor-1 in Delayed Bone Repair Induced by Glucocorticoids in Mice
Int J Mol Sci 23 (1): 478
Gillard, J. et al. (2022) Enterohepatic Takeda G-Protein Coupled Receptor 5 Agonism in Metabolic Dysfunction-Associated Fatty Liver Disease and Related Glucose Dysmetabolism.
Nutrients. 14 (13): 2707.
Mendes de Oliveira, E. et al. (2022) Acute Inflammation Is a Predisposing Factor for Weight Gain and Insulin Resistance
Pharmaceutics. 14 (3): 623.
Mauer, J. et al. (2022) Nintedanib reduces alloimmune-induced chronic airway changes in murine tracheal allografts.
Transpl Immunol. 73: 101608.
Zhu, B. et al. (2022) Indole Supplementation Ameliorates MCD-induced NASH in mice.
J Nutr Biochem. : 109041.
Fahlquist-Hagert, C. et al. (2022) Variants of beta-glucan polysaccharides downregulate autoimmune inflammation.
Commun Biol. 5 (1): 449.
Hussain, K. et al. (2022) HIF activation enhances FcγRIIb expression on mononuclear phagocytes impeding tumor targeting antibody immunotherapy.
J Exp Clin Cancer Res. 41 (1): 131.
Vlachou, F. et al. (2022) Galectin-3 interferes with tissue repair and promotes cardiac dysfunction and comorbidities in a genetic heart failure model.
Cell Mol Life Sci. 79 (5): 250.
Zhang, J. et al. (2022) Mesenchymal stem cell-derived extracellular vesicles protect retina in a mouse model of retinitis pigmentosa by anti-inflammation through miR-146a-Nr4a3 axis.
Stem Cell Res Ther. 13 (1): 394.
Spitzel, M. et al. (2022) Dysregulation of Immune Response Mediators and Pain-Related Ion Channels Is Associated with Pain-like Behavior in the GLA KO Mouse Model of Fabry Disease.
Cells. 11 (11): 1730.
Chang, M.Y. et al. (2022) Effects of Suramin on Polycystic Kidney Disease in a Mouse Model of Polycystin-1 Deficiency.
Int J Mol Sci. 23 (15) 8499.
Spix, B. et al. (2022) Whole-body analysis of TRPML3 (MCOLN3) expression using a GFP-reporter mouse model reveals widespread expression in secretory cells and endocrine glands.
PLoS One. 17 (12): e0278848.
Sitia, G. et al. (2022) Food-Grade Titanium Dioxide Induces Toxicity in the Nematode Caenorhabditis elegans and Acute Hepatic and Pulmonary Responses in Mice.
Nanomaterials (Basel). 12 (10): 1669.
Sakashita, H. et al. (2022) Spatial and chronological localization of septoclasts in the mouse Meckel's cartilage.
Histochem Cell Biol. 157 (5): 569-80.
Schepers, M. et al. (2022) Selective PDE4 subtype inhibition provides new opportunities to intervene in neuroinflammatory versus myelin damaging hallmarks of multiple sclerosis.
Brain Behav Immun. 109: 1-22.
Al Moussawi, K. et al. (2022) Mutant Ras and inflammation-driven skin tumorigenesis is suppressed via a JNK-iASPP-AP1 axis.
Cell Rep. 41 (3): 111503.
Chaudhary, P. et al. (2022) Optic Nerve Head Myelin-Related Protein, GFAP, and Iba1 Alterations in Non-Human Primates With Early to Moderate Experimental Glaucoma.
Invest Ophthalmol Vis Sci. 63 (11): 9.
Xie, Q. et al. (2022) Matrix protein Tenascin-C promotes kidney fibrosis via STAT3 activation in response to tubular injury.
Cell Death Dis. 13 (12): 1044.
Piñeiro-Hermida, S. et al. (2022) Consequences of telomere dysfunction in fibroblasts, club and basal cells for lung fibrosis development.
Nat Commun. 13 (1): 5656.
Camargo, F.N. et al. (2022) Western Diet-Fed ApoE Knockout Male Mice as an Experimental Model of Non-Alcoholic Steatohepatitis.
Curr Issues Mol Biol. 44 (10): 4692-703.
Fernández-Ginés, R. et al. (2022) An inhibitor of interaction between the transcription factor NRF2 and the E3 ubiquitin ligase adapter β-TrCP delivers anti-inflammatory responses in mouse liver.
Redox Biol. 55: 102396.
Kümper, M. et al. (2022) Role of MMP3 and fibroblast-MMP14 in skin homeostasis and repair.
Eur J Cell Biol. 101 (4): 151276.
van Os, E.A. et al. (2022) Modelling fatty liver disease with mouse liver-derived multicellular spheroids.
Biomaterials. 290: 121817.
Gawish, R. et al. (2022) A neutrophil-B-cell axis impacts tissue damage control in a mouse model of intraabdominal bacterial infection via Cxcr4.
Elife. 11:e78291.
Yoon, S.G. et al. (2023) Role of NADPH Oxidases in Renal Aging.
Gerontology. Jan 28 [Epub ahead of print].
Wu, Q. et al. (2022) Influenza A virus modulates ACE2 expression and SARS-CoV-2 infectivity in human cardiomyocytes.
iScience. 25 (12): 105701.
Ryu, K.J. et al. (2023) Effects of time-restricted feeding on letrozole-induced mouse model of polycystic ovary syndrome.
Sci Rep. 13 (1): 1943.
Liebold, I. et al. (2023) TREM2 Regulates the Removal of Apoptotic Cells and Inflammatory Processes during the Progression of NAFLD
Cells. 12 (3): 341.
Yamaguchi, M. et al. (2022) Identifying Hyperreflective Foci in Diabetic Retinopathy via VEGF-Induced Local Self-Renewal of CX3CR1+ Vitreous Resident Macrophages.
Diabetes. 71 (12): 2685-2701.
Lanthier, N. et al. (2022) Liver Fetuin-A at Initiation of Insulin Resistance.
Metabolites. 12 (11): 1023.
Ahamed, W. et al. (2022) HTRA1 Regulates Subclinical Inflammation and Activates Proangiogenic Response in the Retina and Choroid.
Int J Mol Sci. 23(18): 10206.
Song, J. et al. (2023) Age-associated adipose tissue inflammation promotes monocyte chemotaxis and enhances atherosclerosis.
Aging Cell. 22 (2): e13783.
Keul, P. et al. (2022) Sphingosine-1-Phosphate (S1P) Lyase Inhibition Aggravates Atherosclerosis and Induces Plaque Rupture in ApoE(-/-) Mice.
Int J Mol Sci. 23 (17): 9606.
Zheng, W. et al. (2023) Mycobacterium tuberculosis resides in lysosome-poor monocyte-derived lung cells during persistent infection.
bioRxiv. Jan 20 [Epub ahead of print].
Riera-Domingo, C. et al. (2023) Breast tumors interfere with endothelial TRAIL at the premetastatic niche to promote cancer cell seeding.
Sci Adv. 9 (12): eadd5028.
Bani-Hani, M. et al. (2023) Interactions of Carboxylated Nanodiamonds With Mouse Macrophages Cell Line and Primary Cells
Int J Orthopaed Res. 6 (1): 30-43.
Riera-Domingo, C. et al. (2023) Breast tumors interfere with endothelial TRAIL at the premetastatic niche to promote cancer cell seeding
Science Advances. 9 (12) eadd5028.
Violatto, M.B. et al. (2023) Variations in Biodistribution and Acute Response of Differently Shaped Titania Nanoparticles in Healthy Rodents.
Nanomaterials (Basel). 13 (7): 1174
Azulay, M. et al. (2023) Tumor-targeted superantigens produce curative tumor immunity with induction of memory and demonstrated antigen spreading.
J Transl Med. 21 (1): 222.
Liou, G.Y. et al. (2023) Inflammatory and alternatively activated macrophages independently induce metaplasia but cooperatively drive pancreatic precancerous lesion growth.
iScience. 26 (6): 106820.
Bobrovskyy, M. et al. (2023) The Type 7b Secretion System of S. aureus and Its Role in Colonization and Systemic Infection.
Infect Immun. 91 (5): e0001523.
Sakashita, H. et al. (2022) Spatial and chronological localization of septoclasts in the mouse Meckel's cartilage.
Histochem Cell Biol. 157 (5): 569-80.
Desaki, Y. et al. (2023) Fcα Receptor Type I and Its Association with Atherosclerosis Development
Juntendo Medical Journal. 69 (3): 231-9.
Weiß, E.M. et al. (2023) Macrophages influence Schwann cell myelin autophagy after nerve injury and in a model of Charcot-Marie-Tooth disease.
J Peripher Nerv Syst. 28 (3): 341-50.
Otsuka, H. et al. (2023) Histamine deficiency inhibits lymphocyte infiltration in the submandibular gland of aged mice via increased anti-aging factor Klotho.
J Oral Biosci. 65 (3): 243-52.
Fisch, J. et al. (2023) Effects of different maternal diets on adipose tissue inflammation and liver tissue oxidative stress in dams and their female offspring.
Mol Cell Biochem. Jun 24 [Epub ahead of print].
Upadhyay, K.K. et al. (2023) Hepatocyte-specific loss of LAP2α protects against diet-induced hepatic steatosis, steatohepatitis, and fibrosis in male mice.
Am J Physiol Gastrointest Liver Physiol. 325 (2): G184-G195.
Araujo, L.C.C. et al. (2023) Estradiol Protects Female ApoE KO Mice against Western-Diet-Induced Non-Alcoholic Steatohepatitis.
Int J Mol Sci. 24 (12): 9845.
Chien, H.T. et al. (2023) Multi-omics profiling of chemotactic characteristics of brain microglia and astrocytoma.
Life Sci. 330: 121855.
Healy, S. et al. (2023) Spatial analysis of nanoparticle distribution in human breast xenografts reveals nanoparticles targeted to cancer cells localized with tumor-associated stromal cells.
Nanotheranostics. 7 (4): 393-411.
Bieber, K. et al. (2023) Forward genetics and functional analysis highlight Itga11 as a modulator of murine psoriasiform dermatitis.
J Pathol. 261 (2): 184-197.
Zhou, E. et al. (2023) Inhibition of DHCR24 activates LXRα to ameliorate hepatic steatosis and inflammation.
EMBO Mol Med. 15 (8): e16845.
Kadoya, H. et al. (2023) Activation of the inflammasome drives peritoneal deterioration in a mouse model of peritoneal fibrosis.
FASEB J. 37 (9): e23129.
Bao, Y. et al. (2023) Sulfated glucuronomannan hexamer inhibits lipid accumulation and ameliorates atherosclerosis in apolipoprotein E-deficient mice
J Funct Foods. 108: 105742.
Horikami, D. et al. (2023) Roles of lipocalin-type and hematopoietic prostaglandin D synthases in mouse retinal angiogenesis.
J Lipid Res. 64 (10):100439.
Doha, Z.O. et al. (2023) MYC Deregulation and PTEN Loss Model Tumor and Stromal Heterogeneity of Aggressive Triple-Negative Breast Cancer.
Nat Commun. 14 (1): 5665.
Itoh, M. et al. (2023) Lysosomal cholesterol overload in macrophages promotes liver fibrosis in a mouse model of NASH.
J Exp Med. 220 (11): e20220681.
Roger, E. et al. (2023) Connexin-43 hemichannels orchestrate NOD-like receptor protein-3 (NLRP3) inflammasome activation and sterile inflammation in tubular injury.
Cell Commun Signal. 21 (1): 263.
Saenz-Pipaon, G. et al. (2023) Role of LCN2 in a murine model of hindlimb ischemia and in peripheral artery disease patients, and its potential regulation by miR-138-5P.
Atherosclerosis. 385: 117343.
Kanhai, A.A. et al. (2023) Short salsalate administration affects cell proliferation, metabolism, and inflammation in polycystic kidney disease
iScience. 26 (11): 108278.
Zhou, Q. et al. (2023) Thrombospondin1 antagonist peptide treatment attenuates obesity-associated chronic inflammation and metabolic disorders in a diet-induced obese mouse model.
Sci Rep. 13 (1): 20193.
McFleder, R.L. et al. (2023) Brain-to-gut trafficking of alpha-synuclein by CD11c(+) cells in a mouse model of Parkinson's disease.
Nat Commun. 14 (1): 7529.
Gogulamudi, V.R. et al. (2023) Heterozygosity for ADP-ribosylation factor 6 suppresses the burden and severity of atherosclerosis.
PLoS One. 18 (5): e0285253.
Sanchez-Niño, M.D. et al. (2023) Interaction of Fabry Disease and Diabetes Mellitus: Suboptimal Recruitment of Kidney Protective Factors.
Int J Mol Sci. 24 (21): 15853.
Kadoya, H. et al. (2023) Activation of the inflammasome drives peritoneal deterioration in a mouse model of peritoneal fibrosis.
FASEB J. 37 (9): e23129.
Further Reading
Gordon, S. et al. (1992) Antigen markers of macrophage differentiation in murine tissues.
Curr Top Microbiol Immunol. 181: 1-37.
RRID

UniProt

Entrez Gene

GO Terms
MCA497
0413
154568
1702
---
If you cannot find the batch/lot you are looking for please contact our technical support team for assistance.
Always be the first to know.
When we launch new products and resources to help you achieve more in the lab.
Yes, sign me up